Borrow C-Pen reading pens from our branches
Published on 6th May 2022
Make reading easier with a C-Pen, now available to borrow from all of our libraries.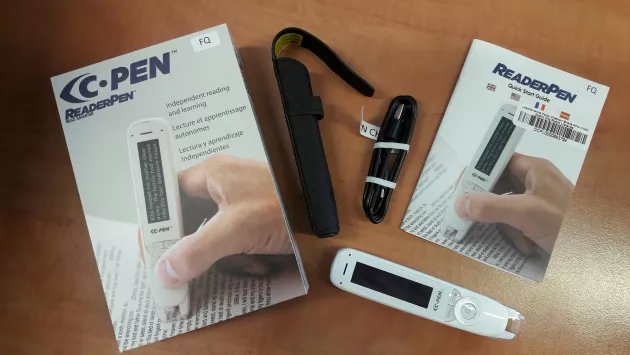 We are delighted to make C-Pens available for lending from all of our branch libraries, as part of our assistive technology services.
The C-Pen is a reader pen which scans and then reads text aloud to assist with independent reading. Reader pens are designed to promote active independent reading, understanding, and learning. People with dyslexia, aphasia or other reading difficulties, those learning languages or those with vision problems may find these pens to be of use for home, study or work.
The pen reads text aloud with a natural speaking voice. The pens have built-in dictionaries so you can access definitions as you read for better understanding. It doesn't store any data, and there is no need for an internet or WiFi connection. The C-Pen may need to be charged before use with the cable supplied.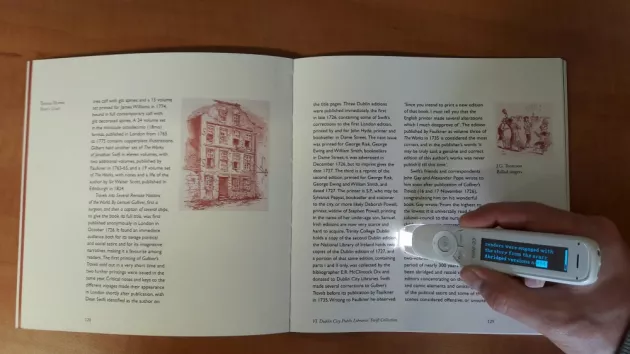 The C-Pen is designed to be user-friendly and intuitive, regardless of the user's age or digital experience.
The Reader Pen comes with a carry case, a cable to charge the reader pen and a quick start guide enclosed in the box. You can also use the Reader Pen with headphones or speakers if required.
Loan rules
You can borrow a C-Pen for a 3 week loan period.
To borrow a C-Pen please enquire at the desk.
Although C-Pens can be used by children or adults, C-Pens must be borrowed with an Adult Library card.
You must return the C-Pen to the same branch it was borrowed from.
Libraries will keep local request lists for the C-Pens.
Please contact your chosen library to check availability and ask to join the request list.
For more information about C-Pens, please visit the C-Pen website.
This initiative is supported by Dormant Accounts Funding 2022.