A Brief History of Dublin Coddle
Published on 17th October 2022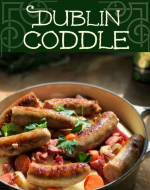 A traditional Irish cold weather treat, (all year round basically in Ireland), Dublin Coddle is considered food for the working class. Dubliners will tell you coddle is best enjoyed with a pint of Guinness and plenty of soda bread to soak up the juices. It was reputedly a favourite dish of the writers Seán O'Casey and Jonathan Swift, and it appears in several references to Dublin, including the works of James Joyce.
A hearty coddle is made from leftovers and therefore is without a specific recipe (this leads to heated debate from purists and the new fusion brigade) and typically consists of roughly cut spuds, sliced onions, rashers and sausages.
A traditional coddle did not use carrots.
The word "Coddle" derives from the French term caudle which means to boil gently, parboil or stew.
Apparently, coddle dates back to the first Irish famine in the late 1700s where anything to hand got thrown into the pot.
The famine of 1740–41 was due to extremely cold and then dry weather in successive years, resulting in food losses in three categories: a series of poor grain harvests, a shortage of milk, and frost damage to potatoes. At this time, grains, particularly oats, were more important than potatoes as staples in the diet of most workers.
Families would use up any leftover meat on a Thursday, as Catholics couldn't eat meat on Fridays. Country people who moved into Dublin to find better work opportunities brought hens and pigs with them to raise for food. After a pig was slaughtered and sold the remains were used to make sausages. The sausages and streaky rashers were boiled up with root vegetables to make a cheap and nutritious meal.
Indeed, before takeaways existed, it was a typical Dublin thing to cook up a pot of coddle early in the day and let it cool down for later. The dish could be reheated for supper after work, or a night out at the pictures, or the pub.
Derek O'Connor from the Sunday Tribune wrote, "the fact that Dubliners have rejected it in favour of kebabs and takeaway pizza is a searing indictment of their moral and spiritual decay."
I am inclined to agree.
Why not check out our eResource Libby for Food & Cooking magazines. Or reserve one of our many books of Irish Cookery via our catalogue. 
Or download the library app on your smartphone, check out the new Self-Service function in the app to borrow and return books in Borrow and Browse branches.