Catch up with the Historian-in-Residence for Children
Published on 4th June 2021
Dervilia Roche has been working as as Dublin's Historian-in-Residence for Children since September 2020. This involves exploring local and wider history with children in Dublin aged 9-12, through activities and projects inside and outside of schools. The aim of her role is to bring history to life with children, planting the seeds for a lifelong connection to the history of Dublin. These are her experiences thus far: 
One thing that has become really clear from talking to children is the huge role that reading plays in fostering their interest in history. Often reading historical fiction is a kind of gateway into exploring a particular historical period or topic. In response to this, I co-designed with a group of very dedicated young readers of history, a monthly history book group for children. We also explored this idea in the Dublin City Libraries programme for the Children's Book Festival last year, when I collaborated with children's authors and spoke with children in schools across the city about their interests in reading and writing about history. 
It's been amazing to chat to so many young historians and to see the huge interest there is in understanding the city's past. We've had interactive workshops on subjects as varied as the Vikings of Dublin, the history of Halloween, and the 1916 Rising. All of the topics covered are drawn from the children's own ideas, and I am always gathering new interests and ideas from them as we chat.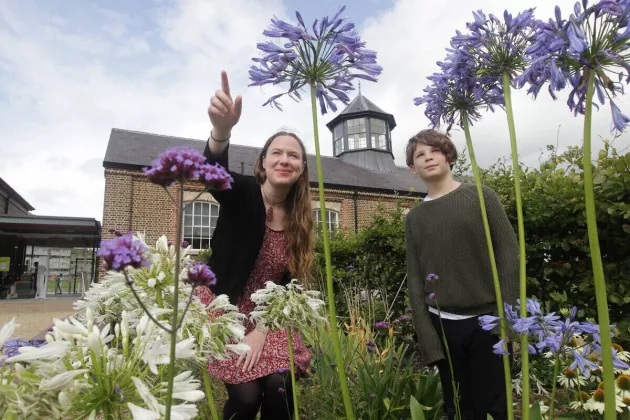 As well as this, I've been lucky to work on some longer projects with schools in the city. Most recently, the children in Canal Way Educate Together National School have been discovering the history of the City Basin and Grand Canal Harbour, and looking at the ways the area around their school has changed over the years. I hope local history projects like this one help the children to make sense of their surroundings and to feel a connection to their place and community. 
Many of the children I've chatted with have shown a real interest in doing their own bits of research on certain aspects of history, and I try in my role to support this by suggesting simple ways to undertake historical research, such as chatting with an older family member, or exploring online maps.
So far in my residency, the workshops and projects have of course been held online rather than in-person. Like many people, this was a new way of working for me. While it brings some challenges, it's also had its advantages. For some families, it's easier to access workshops this way than by going to a particular venue. As well as this, it provides a new way for children to ex-press their views, through zoom chat features and by adding drawings and comments. 
As another response to lockdown restrictions, I invited children to explore history in their local area and share it with me through video footage. The videos I received really showed the interest and curiosity so many children have in exploring their surroundings, and, in some cases, considering details that many of us might otherwise miss, such as small architectural features and unusual place-names.
As things gradually re-open, I'm looking forward to being able to hold in-person events also, with a greater scope for activities. My role is based in Richmond Barracks in Dublin 8, a building and area with their own fascinating stories, and a place that will eventually provide a space for more history exploration with children. In the coming months, I'll be holding more free online workshops, as well as special summer activities, which any children in the 9-12 age group are welcome to join. 
If you would like to know more about experimenting, learning and sharing through history with the Historian-in-Residence for Children, you can get in touch with me at [email protected].
The Creative Residency programme is made by Dublin City Council Culture Company. 
The Historian-in-Residence for Children Creative Residency at Richmond Barracks is a partnership with Dublin City Council Culture Company and Dublin City Libraries.