Collinstown Aerodrome Raid 1919
Published on 19th March 2019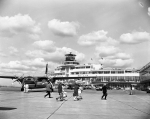 The Soloheadbeg Ambush in January 1919 did not lead to a wide scale conflict immediately. For much of 1919, the Irish Volunteers embarked on a mainly defensive campaign, primarily searching for arms. As a result, some skirmishes broke out leading to some deaths.
Isolated deaths of RIC men occurred in Limerick, Clare, Mayo and Tipperary. The shortage of arms was the main problem posed. Gun shops and private homes were raided for arms. In March 1919, all such premises were raided in the North-East of Dublin city.
The most successful arms raid throughout the whole war occurred at Collinstown Aerodrome, present day site of Dublin Airport, on 20th March 1919. As the Aerodrome was heavily guarded by the British Military, according to Patrick Houlihan, a Volunteer and employee at the Aerodrome, the local Volunteers had to submit plans to the Irish Volunteers General Headquarters (GHQ) for approval. Once it was granted, two guard dogs at the Aerodrome were poisoned the afternoon before the raid, 19th March, calculated to kill them some hours later, to prevent an alarm being raised. That night the raiding party, numbering about 25, were dressed in khaki and masks, supplied by GHQ. Some volunteers engaged in disarming and tying up the sentries, 20 in number, whilst others collected all the arms and ammunition they could. The haul was transported away in two cars. To prevent a chase, over 20 cars in the military garage were demolished with sledgehammers. Acting in almost total silence to capture the sentries and sticking clearly to their well thought out plans, was key to the raid's success.
75 rifles and 5,000 rounds of ammunition were secured. There were no casualties nor prisoners taken. It was the largest loss of weapons by the British army from a single operation throughout the whole conflict. Many of the arms captured that day ended up in the IRA arms dump at the Naul in North Dublin. The British decided to punish the locals, a trend they would continue throughout the war, a foolish move which brought more and more support for the Volunteers. All 800 workers were sacked on the Collinstown site and replaced by military personnel. It was an act of collective punishment, recognised and resented as such.
 
Cormac Moore, Historian in Residence, Dublin City Library and Archive.
Dublin City Council Historians in Residence are available to meet groups and schools, give talks, walks etc, run history book clubs and advise on historical research.