Conserving Wide Street Commission Maps 1757-1849
Published on 16th November 2016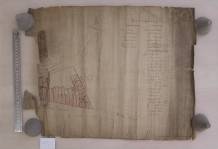 Listen to Liz D'Arcy talk about conserving the Wide Street Commission Maps. Hear how she painstakingly removed sellotape, cleaned, repaired and strengthened these important maps.   Liz D'Arcy, Paperworks, Studio for Paper Conservation is qualified with an MA in Conservation of Fine Art on Paper. Liz is an accredited member of the 'Institute for Conservation of Historic and Artistic works in Ireland' (I.C.H.A.W.I) and a member of the 'Irish Professional Conservators and Restorers Association' (I.P.C.R.A).
Between 1757- 1851, the Wide Street Commission had a major impact on the development of the city, transforming it from a medieval city to the Dublin we know today.  Its function was to provide "Wide and Convenient Streets" for Dublin and it had extensive powers to acquire property by compulsory purchase, develop new streets, demolish buildings and impose design standards on building lots which were sold to developers. Dublin City Archives hold the Wide Street Commission Archives, which comprises maps, minute books and drawings. 
Recorded at Dublin City Hall on 24 August 2016 at Dublin City Archives' 'Living in Georgian Dublin' seminar. Part of Heritage Week 2016 programme.

Dublin City Archives is grateful to the Heritage Council of Ireland for funding under the Heritage Management Project Scheme 2016 to conserve 23 Wide Street Commission Maps in 2016.
Conservation Notice
In order to reduce handling damage and to ensure the long term preservation of these fragile maps, all researchers are requested to view the digitised images in the first instance. High-Res versions can be provided on request. Viewing of original maps is strictly by appointment only: please apply to [email protected]. 
Please note: A minimum of 3 days notice is required to process your request and a maximum of 10 maps may be ordered per visit.
To view this, you must update your