Dining in Dublin: 150 Years of Eating Out in Ireland's Capital
Published on 10th May 2017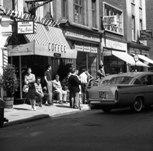 What's it like to eat in Dublin? As this image gallery shows, Dublin boasts a rich and varied food history that includes everything from haute cuisine to kosher pickles to a "Wan an' Wan" by the Liffey. Some of the Dublin eateries in these pictures came in and out of existence within just a few years, making their stories harder to trace. Others evolved into cultural institutions, famous not only for their food but for their contribution to the vibrancy of Dublin life. All have enriched the flavour of the city on the Liffey.
'As down by Anna Liffey,
My love and I did stray.
Where in the good old Liffey mud
The sea-gulls sport and play
We caught the whiff of ray and chips
And Mary softly sighed,
'Oh! John, come on for a Wan an' Wan
Down by the Liffey side.'
-'Fish and Chips,' by Peadar Kearney (1883-1942)
Let's start our food journey in the late nineteenth century. Although restaurants were not yet a common fixture in Dublin, a hungry wanderer could still enjoy a snack in the Dublin Bread Company's (DBC) distinctive building on O'Connell Street, or perhaps a beverage—although not an alcoholic one—at the Dublin Coffee Palace on Townsend Street, an institution owned and operated by the Total Abstinence Society. During the events of 1916, however, not all of these eateries escaped unscathed. Indeed, after catching fire, the DBC never re-opened.
Although eating out remained unusual until after the Second World War, Dubliners did partake in food trends. The 1907 Irish International Exhibition—a grand event that housed multiple restaurants—featured a Vegetarian Café, where the 'Vegetarian Club' held meetings. Vegetarianism seems to have come into vogue in early-twentieth-century Dublin: in 1929, for example, the Irish Times offered a recipe for vegetarian pie that featured a pound of potatoes, a pound of tomatoes, a large onion, and "good short pastry." During the war, such vegetarian dishes offered a practical solution for the problem of food shortages.
After rationing ended and the difficult 1950s passed, dining out became more popular. Restaurant Jammet on Nassau Street and the Russell Restaurant on St. Stephen's Green South became known for serving the finest French cuisine, making Dublin into what chef Mairtin Mac Con Iomaire has called the "gastronomic capital of the British Isles." At the same time, eateries like the Colburn Café catered to the working class and advertised hearty fare such as "a cup of coffee with eggs, bacon, sausage, [and] mashed potatoes." From the fancy to the fried, restaurant food was becoming a regular staple of the Dubliner diet.
This diet included diverse flavours. The Clanbrassil Street area, for example, boasted kosher delicatessens that fed a vibrant local Jewish community during the mid-twentieth century. As Michael Kennedy has revealed, by the 1960s Dublin also supported a variety of Indian restaurants, such as the Taj Mahal on Lincoln Place, which became a popular Dublin fixture known for serving extremely spicy curries. Chinese restaurants also grew more common as Dubliner taste buds became accustomed to increasingly diverse menus.
By the 1980s, American fast food had joined Dublin's already extensive repertoire of food choices. McDonald's and Captain America's—both still located on Grafton Street—became popular spots. At the same time, old favourites like Bewley's Oriental Café continued to delight customers. Today, as Mairtin Mac Con Iomaire writes, "the evolving future of Dublin restaurants appears promising," with a revived haute cuisine scene and an ever-growing diversity of restaurants. But Dubliners can still enjoy a "Wan an' Wan" by the Liffey.
This gallery was created by Alissa Cartwright, who carried out an internship at the Dublin City Library and Archive in 2017 while completing at M.Phil in Public History and Cultural heritage in Trinity College, Dublin. Alissa is a graduate of the University of Victoria on Vancouver Island in Canada, where she obtained a B.A. (Hons) in History with a minor in English. She hopes to complete a Ph.D. in history in Canada or the United States after finishing her degree at Trinity. Alissa would like to acknowledge her thanks to Enda Leaney of Dublin City Libraries for his assistance and advice.
Further Reading
"1970s Ireland: When Old Ideas Met New Affluence," The Irish Times, 27 October, 2012.
"Best Bash for a Thousand Years," The Irish Times, 11 July, 1988.
"Dublin Bread Company Restaurant." Irish Architectural Archive.
"Dublin's First Chinese Restaurants: 1956-mid 1960s." Come Here to Me! Dublin Life & Culture, 25 July, 2012.
"Café was rebels' sniper and observation post," Herald.ie, 10 March, 2016.
"Coffee Palace Bazaar," The Irish Times, 26 June, 1875.
Harris, Nick. Dublin's Little Jerusalem. Dublin: A.A. Farmar, 2002.
Iomaire, Mairtin Mac Con. "Food as 'Motif' in the Irish Song Tradition." Dublin Institute of Technology.
Iomaire, Mairtin Mac Con. "The Changing Geography and Fortunes of Dublin's Haute Cuisine Restaurants, 1958-2008." Food, Culture, and Society 14, no. 4 (525-545).
"Irish International Exhibition: A View of the Grounds," The Irish Times, 6 April, 1907.
Kennedy, Michael. "Where's the Taj Mahal?" History Ireland July/August 2010, 50-52.
"Take Interest in Vegetables," The Irish Times, 5 May, 1945.
"Vegetarian Pie," The Irish Times, 13 May, 1929.
"Vegetarian Fridays," The Irish Times, 17 February, 1940.
Access Irish Newspaper archives at your local library with your library membership: Irish Newspaper Archives and Irish Times Digital Archive. History Ireland is available at the Reading Room, Dublin City Library and Archive and many of our branch libraries, see Newspapers, Magazines and Journals.
Search and browse the Libraries and Archive Digital Repository. Highlights include the Fáilte Ireland Photographic Collection, Dublin City Council Photographic Collection, the Irish Theatre Archive.