"Doing their bit": Irish women and the First World War
Published on 20th March 2018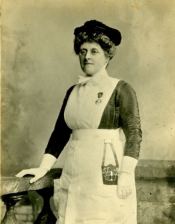 "Doing their bit": Irish women and the First World War' is a new exhibition in Dublin City Library and Archive in Pearse Street. The exhibition centres on the impact that the First World War had on the lives of Irish women and the new opportunities that opened up for them.
Speaking about the exhibition senior archivist Ellen Murphy said  "The role of Irish women in World War 1 is a story that is yet to be fully told. Against the backdrop of the campaign for female suffrage and the struggle for Irish Independence, this exhibition explores how the First World War impacted the lives of Irish women and greatly accelerated the changes which had been slowly taking place in society before the outbreak of war.  By 1918 Constance Markievicz was the first woman elected to the British House of Commons and many Irish women had experienced new economic or social freedoms through the employment and volunteer opportunities offered by the war."
Two notable women are highlighted in the exhibition; Kate Middleton Curtis a distinguished member of St John Ambulance in Dublin who referred to herself as 'The oldest ambulance lady in Ireland' and Monica Roberts, a young Stillorgan woman who in 1914 established 'The Band of Helpers for the Soldiers'. This voluntary group sent 'home comforts' such as cigarettes, food, clothing and watches to Irish soldiers in the front line. Kate's diary and other medical artefacts, as well as letters and postcards from the Monica Roberts collection, are on display.
You may like to listen back to Women of the Brigade: St John Ambulance & the First World War, a talk by Pádraig Allen to accompany the exhibition.
Many thanks to members of St John Ambulance Ireland and Royal Dublin Fusiliers Association for their contributions to our exhibition "Doing their bit": Irish women and the First World War. Here are a few photos from their visit on Friday 16 March:
The exhibition draws on the rich vein of archival materials contained in the Royal Dublin Fusiliers Association Archive held at Dublin City Library and Archive to tell a multitude of women's stories from Voluntary Aid Detachment nurses to munitions workers, home front volunteers,  anti-enlistment activists and separation women.  Other artefacts available for public viewing are a 'death penny' commemorating Sgt Michael Guilfoyle of the Royal Dublin Fusiliers, killed at Salonica in 1916 and a book of poetry by the renowned republican poet Maeve Cavanagh.