Dublin Remembers 1916 Video
Published on 8th October 2015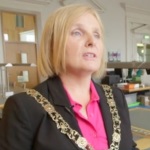 An Taoiseach Enda Kenny today launched the 1916 Rising commemorative programmes of 31 local authorities, including Dublin City Council's comprehensive programme to remember this pivotal event in Dublin's and Ireland's history.
An Taoiseach said: "I know that these 31 County Plans for Ireland 2016 represent the outcome of many hundreds of hours of reflection, consultation and discussion involving thousands of people all over Ireland".
View the "Remembering 1916" video for an overview of the programme for 2016.
To view this, you must update your