Dublin Revealed: author readings in the Central Library
Published on 23rd June 2011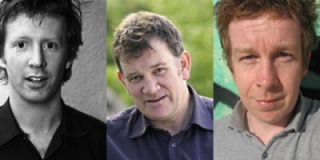 Dublin City Public Libraries and Ireland Literature Exchange presented a series of talks and readings, 'Dublin Revealed' in the Central Library in May 2011. Three of these talks and readings are available to listen to here.
Right: Paul Murray, Carlo Gébler, Kevin Barry
Listen to Carlo Gébler reading from The Dead Eight, followed by Q&A
Born in Dublin in 1954, Carlo Gébler was brought up in London and studied at the University of York and the National Film and Television School, Beaconsfield. His novels include The Eleventh Summer (1985), Work & Play (1987), Malachy and his Family (1990), Life of a Drum (1991), The Cure (1994), How to Murder a Man (1998) and A Good Day for a Dog (2008). He collaborated with Patrick Maguire to write the 2008 memoir, My Father's Watch: The Story of a Child Prisoner in 70s Britain, imbuing it with a "quiet emotionalism" (The Guardian). His books for children are well-known: Caught on a Train (2001) was short-listed for a Bisto prize. In addition, he has written articles and short stories for many national publications and a libretto for opera. He is a film-maker, producer and director of television documentaries. Carlo's work has been supported by ILE in Italian and Hebrew. Carlo Gébler is a member of Aosdána and lives in Enniskillen, where he currently is writer-in-residence in HMP Maghaberry. Browse Carlo Gébler books in the library catalogue.
Recorded at the Central Library on 13 May 2011. Introduction by Sinéad Mac Aodha.
Kevin Barry reading from The City of Bohane with Q&A
Kevin Barry was born in Limerick in 1969 and now lives in Sligo. His first collection of short stories, There Are Little Kingdoms, won the Rooney Prize for Irish Literature in 2007. Fellow Irish short story writer Philip Ó Ceallaigh praised them as 'vibrant, original, and intelligent short stories that deserve to be read and reread and to outlast the strange years that made them'. He has written about travel and literature for The Guardian, The Irish Times, The Sydney Morning Herald and many other publications. His debut novel City of Bohane (published last month) is set in 2054 in the fictional city of Bohane in the West of Ireland, which is on its knees, infested by vice and split along tribal lines. Irvine Welsh has described Barry as 'the most arresting and original writer to emerge from these islands in years'. Check the availability of City of Bohane and There are Little Kingdoms in the catalogue.
Listen to Kevin Barry reading from City of Bohane, followed by questions and answers. With an introduction by Aoife Walsh (20th May 2011).
Paul Murray reads from Skippy Dies with Q&A
Born in Dublin in 1975, Paul Murray studied English Literature in Trinity College. He later completed a postgraduate degree in Creative Writing at East Anglia University. His riotously funny début novel, An Evening of Long Goodbyes (2003), was shortlisted for the Whitbread Award and for the Kerry Irish Fiction Award. Skippy Dies (2010) was long-listed for the 2010 Man Booker Prize for Fiction. Neil Jordan is set to direct the film adaptation. Skippy Dies has been supported by ILE in Italian, German and Norwegian. "Skippy Dies is so appealing and surprising that the pages pass with ease", The Guardian. Check the availability of Skippy Dies and An Evening of Long Goodbyes in the catalogue.
Listen to Paul Murray reading from Skippy Dies, followed by questions and answers. With an introduction by Paul Murray (27th May 2011).
Jennifer Johnston
Jennifer Johnston also read and took questions at the Central Library as part of Dublin Revealed on 6th May.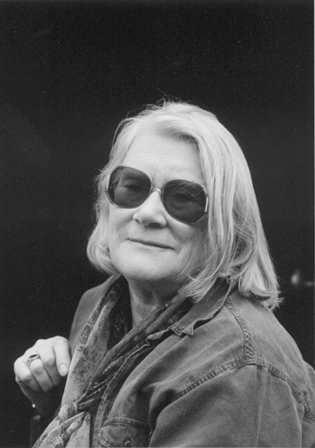 Jennifer Johnston (1930) was born in Dublin. She is a novelist and a dramatist, her most recent novel being Truth or Fiction, published in 2009 by Headline Review. Foolish Mortals (2007) was voted Irish Book of the Decade in 2010. She has received many awards: the 1979 Whitbread Award for The Old Jest; the Giles Cooper Award for Best Radio play (1989) and Shadows on our Skin (1977) was shortlisted for the Booker Prize. She was short-listed for the Daily Express Best Book of the Year 1992 for The Invisible Worm. The Irish Independent has called her "one of Ireland's finest writers". With support from ILE, her work has been translated into French, Slovene, Croatian, Czech, Romanian and Bulgarian.  Jennifer Johnston lives in Derry and is a member of Aosdána. Browse Jennifer Johnston books in the library catalogue.