Published on 3rd October 2016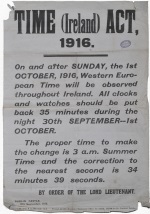 On 1 October 1916, just five months after the Rising, Ireland relinquished its individual time zone and adopted Greenwich Mean Time. With the introduction of daylight saving and the end of summertime that year Dublin's time was aligned to that of London.
Right: Time (Ireland) Act 1916
For 36 years Ireland's time was set on the longitude of Dunsink Observatory, and was 25 minutes 21 seconds later than Greenwich. This had implications for trade and commerce, as well as communications and travel. Up to the late 19th century time was not standardised and each area set its own clocks. The Time Act of 1880 established Greenwich Mean Time for Great Britain and Dublin Mean Time for Ireland.
The Time (Ireland) Act 1916, which came into effect on the night of 30 September 1 October as all clocks were put back 35 minutes, streamlined the time zones, and Ireland adopted Western European Time, set on the Greenwich meridian. Many in the nationalist movement saw this as a further erosion of Ireland's ability to make decisions for itself. However, after Independence, the question of the time zone was not revisited. With this act Ireland was brought into the standardised time zones which were effective across Europe.
About The Reading Room
The Reading Room is located on the first floor, Dublin City Library and Archive, 138-144 Pearse Street, Dublin 2. It is open from 10am to 8pm Monday to Thursday and from 10am to 5pm on Friday and Saturday, and does not close for lunch. A Research Card is available, please enquire at the Issue Desk.