History Document of the Month: Rally round the banner boys!
Published on 7th February 2019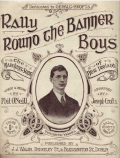 Gerald Crofts (1888–1934) was one of a small group of musicians and lyricists who made a huge contribution to the Irish independence movement in the early 20th century. He came from Capel Street originally, where his family had a shop and he was a popular singer. His brother Joseph was a composer who arranged the words and music for this marching song, which was dedicated to Crofts.
Gerald had joined the Irish Volunteers in 1914 and he was a close friend of some of the leaders of the Rising. He was imprisoned in Dartmoor and Lewes prisons in England and suffered poor health for the rest of his life.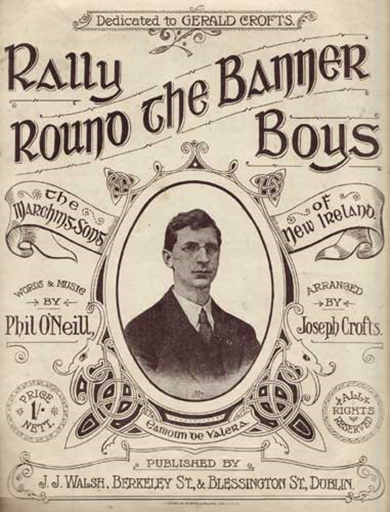 Crofts continued his republican activities after his release from prison although he was curtailed in what he could do by a problem with his hands, which meant he could not hold weapons. Family papers suggest that he was involved in intelligence work with Michael Collins. In the later years of his life he was well known for singing his friend Constance Markiewicz's anthem 'A Battle Hymn' (dedicated to the Irish Citizen Army) at political gatherings and concerts. He died on 14th November 1934.
 
History Document of the Month
Every month the Dublin City Council Historians in Residence will be highlighting a document from Dublin City Public Libraries and Archives Digital Repository.  An image of the selected document will be on display in branch libraries during the month.
Historians in Residence are available to meet groups and schools, give talks, walks etc, run history book clubs and advise on historical research.