The History of Social Housing in Inchicore
Published on 16th June 2017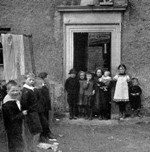 This photo gallery tells the history of social housing in Inchicore which is a suburb of Dublin, 5km west of the city centre. It traces the history of the area from tenements and one of Dublin Corporation's first social housing schemes to the conversion of Richmond Barracks to Keogh Square then St Michael's Estate and beyond. It challenges some of the negative perceptions about Keogh Square and St Michael's Estate and hopes to encourage former residents to share their memories. Although Keogh Square and St Michael's Estate dominate the narrative, they are not the only social housing in Inchicore so this gallery also includes Tyrone Place, Bulfin Court, Emmet Crescent and Thornton Heights.
View History of Social Housing in Inchicore Image Gallery.
It is important to contextualise these local developments with Dublin Corporation's social housing policy. Richmond Barracks was converted to social housing in the 1920s in response to Dublin's notorious tenement slums in the inner city which were overcrowded and unsanitary. From the mid-1940s onwards, Dublin Corporation made a concerted effort to transfer families to new houses in the suburbs. Tenant purchase of social housing was also included in the 1948, 1954 and 1956 Housing Acts. The collapse of two Dublin tenements in 1963 which involved fatalities resulted in the Corporation's largest complex of high-rise flats in Ballymun. This is because rehousing families in the remaining tenements was urgent and high-rise flats could be built quickly. Dublin Corporation's experimentation with high-rise living did not last long although it included the construction of St Michael's Estate after Keogh Square was demolished in the late 1960s. The long-term policy of selling social housing to tenants continued with the Corporation's introduction of surrender grants in 1978 which helped tenants buy their own homes. This increased the proportion of homeowners in Ireland. By the 1980s, suburbanisation meant that the centre of Dublin was neglected and underdeveloped which resulted in various plans for its renewal. This included an estate-based approach to regeneration which was dominated by Public Private Partnerships in the 2000s although many of these collapsed due to the global credit crisis. While regeneration is often interpreted as just the physical transformation of an area, residents and community groups argue that it should also include social regeneration.
This gallery was created by Lauren Massey, who carried out an internship at the Dublin City Library and Archive in 2017 while completing an M.Phil in Public History and Cultural Heritage in Trinity College, Dublin. Lauren is a history graduate of King's College, Cambridge University. After finishing her studies in Dublin, Lauren will return to the northwest of England where she hopes to work in the heritage sector. Lauren would like to thank Enda Leaney of Dublin City Public Libraries & Archive for his assistance and advice. She would also like to dedicate this gallery to the grassroots heroes of Keogh Square, St Michael's Estate and Richmond Barracks.
Further Reading
Barry, Aoife. "President Higgins Opens New Housing Scheme Named After 1916 Rebel Female Doctor," The Journal, September 9, 2014.
Brady, Joseph. Dublin, 1950-1970: Houses, Flats and High-Rise.
Bissett, John. Regeneration: Public Good or Private Profit?
Edwards, Elaine. "100 Years On, Richmond Barracks Becomes Permanent Reminder of Rising," The Irish Times, May 2, 2016.
"Minister Humphreys announces plans for renovation of Richmond Barracks, Dublin," The Decade of Centenaries, October 2, 2014.
McGrath, Louisa. "In Inchicore, the Rebirth of Richmond Barracks," Dublin Inquirer, March 16, 2016.
Ó Broin, Seosamh. Inchicore, Kilmainham and District.
O'Halloran, Marie. "Non-denominational Goldenbridge Cemetery Formally Reopened," The Irish Times, May 14, 2017.
O'Meara, Liam. From Richmond Barracks to Keogh Square.
O'Meara, Liam. Who Remembers Keogh Square?