Home energy saving kits available at all libraries
Published on 7th March 2017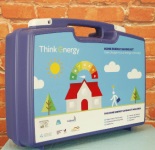 In 2016, Dublin City Libraries in partnership with Dublin's energy agency Codema piloted the Home Energy Saving Kit in 10 libraries across the city.  There was great demand and interest in the kits, so they are now available to borrow free of charge from all Dublin City Public Libraries.  The Toolkit won Best Energy Smart Initiative at LAMA Community and Council Awards ceremony on 4 February 2017.
You can borrow the kit for a duration of 2 weeks in order to conduct a mini home energy audit. Simply check availability with your local library. Please return the energy saving kit to the library where you borrowed it.
All kits will provide a user survey. Make sure you complete this survey after you check out the kit and you could be in with a chance of winning a 100 One4all voucher! Take the 5 minute survey online.
The Minister for Communications, Climate Action & Environment, Denis Naughten, TD, launched the extension of the Home Energy Kit to all Dublin City Libraries on Tuesday, 7 March at Dublin City Library & Archive, Pearse Street.
The Home Energy Saving Kits have been developed by Dublin's energy agency Codema and contain six practical tools to help the public save energy at home.  The items in the toolkits address three key areas of energy use in the home - space heating, hot water and electricity consumption - and can help identify common problems such as lack of insulation, poor ventilation and the appliances in the home that might be driving up electricity bills.
The kit is also accompanied by a step-by-step user manual and demonstration video which easily explain how to use each tool correctly, so it can appeal to homeowners with even the most basic knowledge of energy-saving.