The Irish Soccer Split 1921
Published on 16th September 2019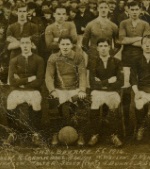 In 1921, the Leinster Football Association separated from the parent body, the Irish Football Association (IFA), and subsequently formed the Football Association of Ireland (FAI). Soccer had been governed on an all-Ireland basis for 40 years beforehand. The split that happened in 1921 remains to this day, unlike most sports in Ireland that are still governed on a 32-county basis.
Although football was divided the same year that Ireland was divided politically by the partition of the country, the primary reason for the split was an internal power struggle between Belfast and Dublin. The IFA, headquartered in Belfast, was believed by the football community in the south to be biased towards northern based teams. Most players selected for the Irish international team were from Ulster-based teams.
Of the 48 international matches held in Ireland before the split, only six were held in Dublin, all the rest were hosted in Belfast. Most members of the IFA Council and its sub-committees were from the north also, and the allocation of funding favoured Ulster clubs over others.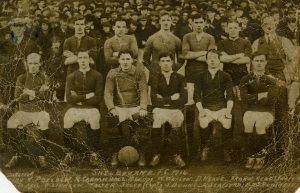 Left, an image of the Shelbourne team from 1914. The catalyst that led to the split involved one of Dublin's oldest clubs, Shelbourne. After Shelbourne had drawn against Lurgan-club Glenavon in an Irish Cup semi-final tie in Belfast in 1921, it was almost universally believed that the replay would be held in Dublin.
The IFA Protests and Appeals Committee ruled it was too unsafe for matches to be played in Dublin due to the prevailing conditions caused by the War of Independence, and Shelbourne was ordered back to Belfast for the replay.
The club refused to do so and was removed from the competition.The action was roundly condemned by the Leinster Football Association and all associated with the game in Dublin. It was the spark that led to the division months later. Many attempts were made from 1921 to 1932 to re-unify the game in Dublin, all failing, leaving soccer in Ireland today divided, as it is politically, north and south.
Blog post by: Cormac Moore, Historian in Residence, North Central Area.