Jacob's Biscuit Factory and the 1916 Rising
Published on 7th July 2015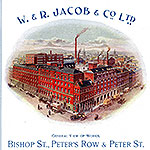 [Update, 24 Nov 2015: Due to data protection reasons, information from Jacob's Biscuit Factory employee records which are less than 100 years old, will  be made available to direct family members only.  All requests regarding individual employees should be sent to [email protected] in the first instance. The cataloguing project will be completed by the end of December 2015 and we will start processing the email requests in January 2016.]
As part of its varied programme of activities for the Decade of Commemorations, Dublin City Library and Archive is currently in the process of cataloguing the records of Jacob's Biscuit Factory which was acquired by Dublin City Archives in 2012.  Here is a sneak preview of some of the records which have thus far been identified which relate to the Easter Rising of 1916 and the occupation of the factory:
SEE IMAGE: Advertisement showing Bishop Street Factory,  Undated ©Valeo Foods, DCLA/JAC/09/241
DCLA/JAC/04/1275 Commemorative Jubilee Booklet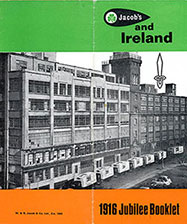 On the 50th Anniversary of the Rising in 1966, Jacob's Factory issued Commemorative Jubilee Booklet which recalled the role of the factory in the Rising:
Jacob's factory gained for itself a unique and historical place in the recorded history of Ireland in being selected by the leaders of the 1916 insurrection as a strong point in the line of active rebellion throughout the city of Dublin. The massive, fortress like factory, with its soaring towers was virtually impregnable. What discussions and decisions among the rebellion leaders led to the seizing of the factory may now never be known, but the quick of fate which led to it has stamped forever the names of Jacob in the pattern of Irish history
(Image ©Valeo Foods. Click to view larger version.)
The booklet was part of an effort by the Company to enhance their public image and to make a contribution to the 1916 Celebration:
"As one of the industries most closely linked with the rising I feel, we will be very obvious if we let the occasion go past without making some sort of effort" 
(1916 Jubilee- A Report DCLA/JAC/08/08)
DCLA/JAC/04/1290:Witness Statement of Henry Fitzgerald
Henry Fitzgerald and Thomas Orr were the watchman and caretaker respectively who were on duty on the morning of Easter Monday, 24th April 1916. A statement within the collection from Fitzgerald provides a valuable insight into what happened during the nine days in which the factory was occupied. Fitzgerald records on 24th April 1916 he "found volunteers and fitters breaking open the door. The officer in charge , whose name I afterwards found to be Lieut. Colbert, placed his hand on my shoulder and stated, as I was watchman, I was the very person he wanted, and I was to consider myself a prisoner".
On Tuesday, April 25th, Fitzgerald noted that he "was asked to allow myself to be sworn in as a member of the Sinn Féin Volunteer. I stated that I was never a member of any organisation, political or otherwise, and that all I wanted was to be released and allowed to go home to my wife".
On Wednesday, April 26th, a fire alarm bell started ringing at 11pm on Wednesday 26th April, and concerned with the amount of flour in the factory that may be destroyed, Fitzgerald made a request to cut the water off and effect repairs. He notes that he was escorted by Lieut. Sean Colbert to No. 5 sprinkler installation, where he turned the water off.
On the final day of occupation Sunday April 30th, Fitzgerald notes "Lieut. Colbert came and shook hands with Mr. Orr and myself and told us peace was proclaimed. I then asked him where I was to go and he answered by telling me "I might go to hell".
When the whole ordeal had ended Fitzgerald notes that he:
"left the factory, having put over the most anxious week I ever spent of my life. I did not change my clothes once during the week. I scarcely touched any food; on Thursday, Friday, Saturday and Sunday there seemed to be plenty of everything, but I felt too sick at heart to take much of anything".
DCLA/JAC/01/015 Company Minute Book (1913-1918)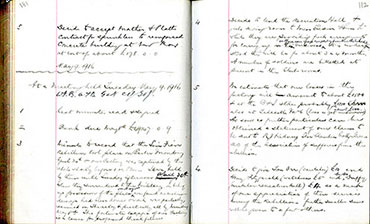 The company minute book recorded the impact of the Rising on business and how order was restored post Easter Week.
As the general day to day running of the factory was interrupted by the occupation of the factory, the Directors:
"decided to pay wages for Monday and Tuesday , May 1st & 2nd, to those employees who were unable to resume work on those days or nights. In part compensation for the loss of wages during the rebellion. This does not apply to any who did not conduct themselves satisfactorily". (11 May 1916)
(Image ©Valeo Foods. Click to view larger version.)
In a document later collated by Charles E. Jacob (c. 1937) on events in the history of W. & R. Jacob & Co. Ltd. he notes that the rebels
"did no damage to machinery fittings but made holes in the walls for strategic purposes and a quantity of rifles and ammunition etc. had to be recovered by the military after the surrender. The populace did some looting on the Saturday afternoon but some of our workers took charge and helped restore order". DCLA/JAC/08/13:
JAC/ Employee Records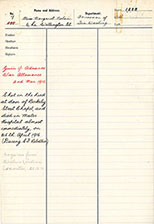 Factory employees both participated and were effected by the 1916 Rising and there is evidence of this within individual employee files held in the collection. Tragically Margaret Nolan, employee no. 7 was "shot in the head at door of Berkeley Street Chapel, and died in Mater hospital almost immediately on 25th April 1916 during SF Rebellion." 
A note on Winifred E. Jarmain's file states that the family was "removed to England after the shock of the SF rebellion" [1916] and Robert Cooper, employee no. 705 "did not return after Easter 1916". Margaret O'Connor, employee no. 158 was "brought under Mr. Dawson's notice for wearing the SF button before the rebellion, suspended for one week pending enquiry."(15 May 1916)
(Image ©Valeo Foods. Click to view larger version.)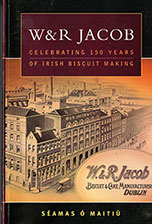 The cataloguing project is due for completion by the end of 2015. The full collection list will then be available online and researchers will be able to access the original records in our Reading Room.
Further recommended reading is Séamus Ó Maitiú 's excellent book W&R Jacob - Celebrating 150 Years of Irish Biscuit Making (Dublin, 2001).
About our Guest Blogger
This article was prepared by Lisa McCarthy, Eneclann, Project Contract Archivist.