Jimmy Davenport Photograph Album
Published on 3rd November 2021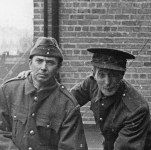 Jimmy Davenport (pictured here on the left in the unpeaked army hat) was a member of the orchestra and occasional performer at the Capitol and Theatre Royal theatres in Dublin in the 1930s and 40s.
These venues are long gone but the white marble staircase of the Frank Matcham designed Theatre Royal survives as the centrepiece stairway in Marks and Spencer on Grafton Street.
Judging by his autographed photo album which has just been digitised, Jimmy Davenport was a bit of a showbiz addict.  He collected over a hundred signed portraits of visiting celebrities and photos of some set pieces from the Theatre Royal.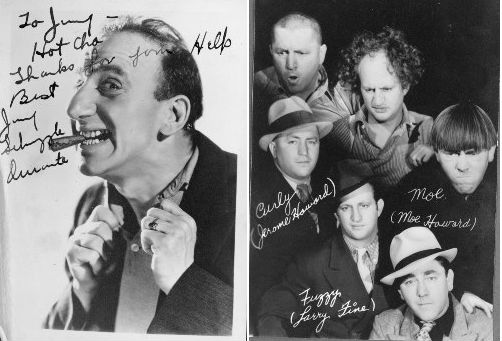 The 3 Stooges, Jimmy Durante, (pictured above) George Formby and Gracie Fields are some of the stars who appear.  There's a young, luminous Elizabeth Welch famous for her renditions of 'Love for Sale' and 'Stormy Weather'.  Matinee idol, Ramón Novarro, one time successor to Rudolph Valentino, smoulders in his signed portrait, complete with pencil moustache. He may have been most celebrated for his scantily clad depiction of Ben Hur (1925).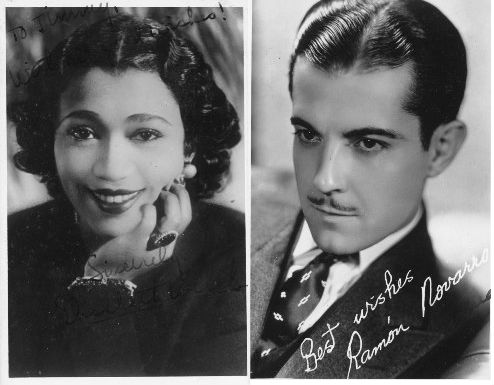 Elizabeth Welch and Ramón Novarro
When Hollywood gigs were thin on the ground, American stars toured the theatres of Europe. Billy Costello pops up. His baby face is an unlikely front for the grizzled tones of Popeye the Sailor for whom he supplied the original voice.  He was let go after 24 films by the Max Fleischer animation company, allegedly for "bad behaviour".  Perhaps he cleaned them out of spinach.
Remarkable pictures abound of acrobatic troupes, women armed with accordions and singing cowboys.  A plaintive looking French mime artist hovers at the edge of a stark, bare stage in sepia tones. The inscription reads "Bien sincerement, Jimmy…" and then an indecipherable scrawl.
Jimmy Davenport himself is here.  He appeared in a 'miniature tattoo', a recruiting show (1940) that featured 200 soldiers, called 'Roll the Drum'. It broke Dublin box office records. He is photographed in soldier's uniform with some cohorts on the roof of the Theatre Royal.
A small Polaroid type shot of Jack Doyle – 'The Gorgeous Gael' and Movita, the actress who became his second wife is also signed.  He was a champion heavyweight boxer who doubled up as a singer. They were married round the corner from Pearse Street Library in St. Andrew's Church, Westland Row in the midst of their Irish Tour of the 1940s.  Their marriage didn't last.  Movita subsequently married Marlon Brando.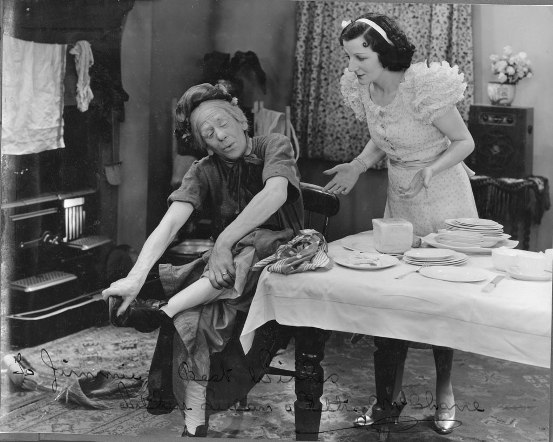 There are pictures from pantomimes and of 'Old Mother Riley' & and her 'daughter', Kitty.  Mother Riley, played by Arthur Lucan in drag, and Kitty McShane were a very successful comedy duo and a sort of precursor to the current day phenomenon of Brendan O'Carroll's Mrs. Brown.
There's a shot taken in 1948.  The dancing girls - the Royalettes - are lined up in what looks like a small circus arena with 3 ponies at the centre.  The band is up on high behind them.  It's hard to see if Jimmy Davenport is in there, the musicians' figures are too small to register their faces.  There was no pantomime that year and the Variety business was changing.  In the following decade rock and roll and television would have a dramatic impact on the world of entertainment and music theatres would struggle. The last Theatre Royal was demolished in 1962.
View Copyright Statement.
About Guest Blogger
I'm Róisín Sheerin, I've been doing work experience at Dublin City Library & Archive, Pearse Street as part of my National Print Museum Cultural & Heritage Course and dipping into Jimmy Davenport's album has been a revelation to me.
In the course of digitising these photos for the archives, I started to research some of the stars and acts.  Philip B. Ryan's book 'The Lost Theatres of Dublin' and Thomas Myler's 'Showtime at the Royal' proved to be of enormous help.
Walking around the Hawkins St area in recent days where the Theatre Royal once stood and which is now more famous for being the location of Apollo House, it's been extraordinary to have this background knowledge and to have caught a glimpse of that vanished world.
First published 23rd March, 2017.