Kevin McCarthy Transcript
Published on 11th November 2013
Listen to Kevin McCarthy's reading and talk.
Welcome to the Dublin City Public Libraries and Archive Podcast. In this episode author Kevin McCarthy reads from his crime novel 'Irregulars'. Recorded in front of a live audience in the Central Library on 31 October 2013 as part of its 'Crime in the City: Crime and History' series.
Hello, how are you? Yeah, I am shocked and delighted to say I was shortlisted there (2013 Irish Book Awards: Crime Fiction Book of the Year) so I've just literally jumped in a cab from the Theatre to come over so I'm really delighted, and thanks very much to Mary and I'd like to thank as well Dublin Libraries for having me. My new novel is called Irregulars. It's an historical crime novel set in Dublin in 1922, during the Irish Civil War and what I'd like to do…I'll read three passages they are about five minutes each to give you a kind of a sense of the book and some of the characters in it, without hopefully giving anything away at the same time - it is a mystery. My first novel Peeler with the same character Sean O'Keefe was set in West Cork during the War of Independence when Sean O'Keefe was an RIC man. In this novel Sean O'Keefe has been demobbed obviously and the RIC has been disbanded. So he is kind of at a loose end. So whereas my first novel Peeler was kind of a police procedural, if you will, it was set during the War of Independence; Irregulars is kind of…I was describing it recently, it just came to me and I liked it, a noir war novel if that's possible. So it's kind of a mystery more in the private detective genre I suppose than police procedural like the first.
So I'll take three passages. So the first passage is Sean O'Keefe himself who'd be the protagonist, the main character in the book.
O'Keefe's mother had told him that his father had been employed by a woman named Dolan. That his father had taken on the work to repay a debt he would not disclose to wife or son, despite it driving him to wake in terror sweats, shouting, pleading with the darkness.
'I didn't know… she never told me, I couldn't have known…please…'
'Told you what, Da?' O'Keefe had ventured the night before, but his father had responded to his question with the same blank look that O'Keefe had come to recognise, the vagueness in his features that spoke of shadows, voids in his father's mind.
 'You'll see to it, won't you, son?' his mother had asked. 'Your father's not able. It would shame him, it would, if the woman were to see him like he is…'
'You know her?' O'Keefe had asked her in turn. 'This Dolan woman?'
'Not at all. Don't be daft,' his mother had said, turning away. Now O'Keefe dresses in his freshly laundered suit of clothes. Civilian clothes marking the civilian he has become. A grey suit, white shirt and starched collar, though O'Keefe notices now that the shirt is not his own and must be his father's.
Even after five months as a civilian, he catches himself staring at this unfamiliar image in the mirror and, as he knots his tie, thinks back to the day he marched in the RIC's last parade before disbandment, his polished black boot slapping the smooth cobbles of the Phoenix Park Depot parade-ground. The lowering of the Union Jack and the raising of the Irish tricolour. He remembers the way he folded his bottle-green uniform trousers on the hanger with the coat and the hat, and how he had left them on the bunk there in the Depot.  Like a second skin, the armour of his past life shed, exchanged for this one suit of grey wool. The suit of everyman. Making him feel somehow less a man in the world now than he was before.

His childhood home behind him, O'Keefe turns onto Clanbrassil Street, slow-hoofs it to Patrick Street and past St Patrick's Cathedral, Foley's pub across the way, the public baths on his right, the address of the Dolan woman folded in his pocket. The streets are filled with the clatter and shriek of tram wheels on rails and the clanging of tram bells; the splutter and belch of coal lorries and motor cars; the clopping of cart-horses, movement and light assaulting O'Keefe's eyes. He starts, goose-pimples peppering his skin as barefooted boys scarper from an alleyway, fleeing some unseen misdemeanour.
Knock the booze on the head, he thinks. Too much of it altogether since he left the Peelers. He thinks again that he should have joined his barrack mates who signed on with The Palestinian Police after disbandment. The Greater Manchester Police as well was looking for experienced men. Or he could always go up north, to the six counties excluded from the Free State by the Treaty, as many other Peelers had done. Take a job at the very wellspring of the civil war now raging. Like the policing he had done in the Tan War, policing in Ulster-they had changed the name to the Royal Ulster Constabulary-would be little more than presiding over pogroms and sectarian bigots with their banners and sashes and such. No thanks, pal. Still, though he is wary, he is happy for this job, happy to repay his father's debt, whatever it may be. If only because nothing good comes of an Irishman with too much time on his hands.
A newspaper boy interrupts his reverie, hawking the dailies. Read it he-ar! Free State Army crush Irregulars in Cork. Many dead, the newsboy shouts, nearly singing. Lo-ads reported dead. Read it he-ar!
O'Keefe continues on up towards Christ Church Cathedral, passing young girls begging for coppers, clutching baby siblings to their scrawny chests or selling matches, some selling themselves. Common as rain in winter-women, girls hawking themselves in the laneways, doorways and cold water flats of the city. More whores than anywhere on earth, so it's said. Dublin, city of whores and angry men. Which is he? he thinks, and shakes his head at the routes taken by his mind when he lets it run.
He passes fruit and vegetable stalls. Thomas's bicycle repair shop-push bikes upturned on the footpath like obstructions in no-man's land. O'Brien and Sons Butchers next, the coppery scent of blood from the open doorway suffusing the October air, seeping into O'Keefe's consciousness and turning his mind to memories of battle, but this time he does not let his thoughts wander. Instead, he forces them down into the place on the sea-floor of his memory where he keeps them. The murder hole he has named it, and smiles sadly that he should have need of such a place, and wonders would there ever be a time when the smell of a butcher's shop would not remind him of the war.
In thinking this, O'Keefe considers how memory-experience-is locked into the meat of the body. He has no believe in a soul, or anything so elevated, but he does believe-he has read this recently during one of his long, clock-killing afternoons in the library and agrees with it - that memory becomes embedded in the physical self; that traces of all past action lay dormant in the muscle, in the sinew and tissue and blood of a man like some latent, malarial sickness and return to attack the mind and body in the form of recollection, unbidden, unexpected. No better than beasts, we are, he thinks as he continues walking, as much slave to the senses as any butcher's dog seeking scraps at the sound of the knife strop.
Irregulars (pp. 31-33)
That's the first bit there that just gives you a sense of maybe of O'Keefe and what kind of character he is and the Dublin that he inhabits in 1922 which again I'll talk about I suppose when I'm finished reading. 
The second bit I'll read is just a bit- again without giving too much away, the book involves in some ways, and again I didn't perhaps realise this until I'd finished writing it but it involves maybe the treatment of children in war-time and in this particular passage, a messenger boy has been captured or lifted by whom we do not know yet in the book so far. So I'll read you this bit and I don't think it gives too much away but it might give you a sense…this boy is fifteen years old and it was common enough for young boys to be fighting on both sides, Free State side and the Republican side during the  Civil War and indeed the War of Independence. Whether they were viewed as children as such again is one of the questions the book asks I hope.
The messenger boys is no longer sobbing, but tears well in his eyes and run down his face when he blinks, his cheeks hot with shame because crying is not what proper soldiers of the Irish Republican Army do.
Nor do they wet themselves in terror, as he has done, in the back of the motor car as they brought him here, the man seated next to him letting out a roar when he felt the piss encroaching onto his side of the bench seat and driving his elbow into the boy's mouth, cutting the boy's lip against his teeth.
The messenger boy sniffs back blood and snot and tries to wipe the tears from his face with his shoulder. He cannot use his hands because they are cuffed so tightly behind him that he has lost all feeling in them. His legs are also bound with the belt from his own trousers, and men have left him on the muddy floor with his back against the damp wall of this derelict cottage, the interior of which holds a cold darkness all its own, colder even, the boy imagines, than outside.
Shivering, unable to warm himself, he swallows back his fear and wonders how long he has been here, in the dark. And he wonders where the other boy has been taken. They had brought him in the car as well, the thief curled up on the floor of the Ford, resting their boots on him, digging their heels into his ribs, his balls, when he whimpered. The messenger wonders whether the other boy had pissed his trousers as well. Would serve him right if he had, the filthy, robbing gouger.
The enemy is everywhere, he thinks, Free State traitor bastards and street robbers; dippers and tenement scum like the lad with the fish-knife. When the Republic comes – the proper, goodo, decent Republic the IRA had fought the Tans and Tommies for and not this half-arsed, cap-tipping Free State model sold to an ignorant people by Collins and Griffith and their mob of Crown stooges – they will clean up the streets right enough. No more dark lanes and mugger boys with knives. The streets are full of them, his mother has always said, and it flashes through his mind to tell his mother what happened, how the two had tried to rob him.  She was always on to him, when he was younger, about minding himself on the streets.
Tears well again in his eyes, and he swallows down the hard lump of sadness and fear in his throat. Another thing no proper soldier of the Republic would do: cry for his mammy when his prick is in fire. Like his is now.
He sniffs again, and resolves to buck up and act like a soldier. No more tears, for the sake of all that's right and holy. I'm fifteen years old, he thinks. Not some youngfella in short trousers mitching from school, but a scout, a messenger, a soldier of the IRA, Dublin Brigade, and now a prisoner of war, no less. He is momentarily pleased by this. I am a prisoner of war, he tells himself, thinking of the letter he will write his mother. Dear mother, fear not for my safety. I am currently a prisoner of war…
And he resolves to say nothing to the men who have brought him here, no matter what they do to him. The message to Mr Murphy in Burton's Hotel had been delivered, as ordered, mouth to ear, and no evidence of this can be found on his person. So he will keep the head down, the mouth shut, no matter what they try on him. He is certain of this. He will make Commandant O'Hanley proud, he will, straightening his back against the wall and wishing he had a cigarette, though he has only recently begun smoking.
For some time he lets his mind wander in the dark, images of himself in the uniform of a soldier – in his fantasy it is a British Army uniform, as familiarity brings it to his mind first, and the army he fights for does not yet have one – of himself on a gallows, his eyes blindfolded, a rakish cigarette dangling from his lip, a fine sweet weeping girleen dabbing at her eyes. He smiles to himself.  A prisoner of war, I am. He only wishes his friend were with him. At least then he would not be alone in the dark.  Even that thieving bastard of a robber would be company. Even him.
He wonders again what has become of the other boy, and as if his thoughts have provoked it, the thief boy begins to scream. The scream comes from outside the cottage and is piercing and girlish. One word is intelligible. The word is No.
The messenger boy shivers in the cold. The tears overflow his eyes and run down his cheeks, and this time he does nothing to try to staunch them. Different images now parade through his head.
Irregulars (pp. 24-25)
Okay and then the third and last passage… this involves another I suppose co-protagonist and her name is Nora, Nora Flynn. She works for the CID, the Criminal Investigation Department based in Oriel House. The CID, just to give you a bit of background, they were the…I'm trying to think of an equivalent, I don't know, like the NKVD in Russia, I suppose.  They were the intelligence department and special policing, political police, basically during the time of the Civil War and for shortly after.  People in Dublin were terrified of them, people around the country were terrified of them, they kind of had carte blanche, and they were founded originally by members of Michael Collins's squad. So you might imagine they didn't do a whole of detecting but they did do a whole lot of shooting.  In researching the book what I found was really interesting was there were six women on the rosters. I'll talk a bit about the CID records in a minute when I finish, but literally the only CID records you can find is pension lists, and on it are six women and they are down as typists, but in other accounts you read, in other departments they are called "cloaked as typists". So they weren't actually typists they had other work; they were spies and intelligence officers themselves.  In the CID they were called Detective Officers. Initially the character, I intended to make him a male character but when I came upon this list, and that's kind of the joy of writing historical fiction is that you come upon things and you say, Oh I'll have to use that. So Nora came to life as a female agent I suppose and really moved the book in directions that I didn't expect it to take in the first place.  So I'll read you this:
Nora had never considered herself to be a Republican. She had become one eventually – or the Free State, pro-Treaty version of a republican, if such were even possible - but reluctantly, only after she had begun passing information to Ned Broy, DMP detective and one of the IRA's men inside the Castle, who would in turn pass her information on to Michael Collins and the volunteers who would use it against her employers in Crown intelligence. Two years ago. It seems a lifetime. A reluctant rebel now working for the most feared unit in the entire country. A 'typist' spy. A paper killer.
Nora had always been a good girl. Decent and kind and perhaps a bit spoiled. The daughter of an accountant father and piano teacher mother, she had finished her schooling in the Loreto convent on Stephen's Green at sixteen and entered the typist pool in the Dublin Corporation offices after attending secretarial college. Her older sisters had found fine husbands and Nora, it was assumed, would do the same after some years of light work.
She could be opinionated, as the nuns had noted in their reports - Nora has come to think of them now as intelligence reports when she allows herself to think of her past -  but had been generally obedient and well-liked by the nuns and her classmates. A bright, mild-mannered girl who reflected her social class and rearing.
From Dublin Corporation to Dublin Castle after reading an advertisement in The Irish Times for skilled typists and filers. The pay had been better, and there was something the slightest bit thrilling about the idea of working behind the great walls of the Castle among the men in uniform and government. Three happy years there, in the Lord Lieutenant's offices, before the Tan War ignited in 1919 and she was transferred to the offices of the Chief of Combined Intelligence Services in Ireland as an epitomiser - a glorified reference librarian for the various networks of Crown spies in Ireland. Typing, filing and compiling like any other secretary in the country, except that was intelligence reports and dossiers on IRA men she filed for the people whom many – including her own brothers – considered to be the enemy of the people of Ireland. She typed and filed and lunched in the Castle canteens or on benches on the parade ground with other girls from the typing pool. And in the evenings she went to dances with officers and intelligence men: even the odd RIC constable, up from the country on prison escorts or protection details. It had been a good life. The benighted contentment of a young modern city girl.
She had enjoyed the work at first. From the cold, bureaucratic distance of the Castle 'I Division' offices, she did a thorough and efficient job of absorbing intelligence from disparate sources, surprising herself with her ability to remember aliases and names gleaned from various reports and documentation. She proved equally adept at scouring old photographs collected in raids of suspects' houses and matching them to custody photographs to prove identity. The ability was noted by her superiors, and soon she was asked to work on specific cases, assigned by agents of the secret service, British Army intelligence and RISC Crimes Special Branch to consolidate, or epitomise as it was called in I-Division, information on men requiring 'urgent attention' from their services.
Nora slumps into the single, hard-backed chair at the table, the table's surface bare but for a half-full ashtray bristling with dog-ends. She laughs through her nose and takes out a Murad Turkish from her handbag. The Crown had been masters of euphemism. How naïve she had been. 'Urgent Attention' when what they meant was murder.
And now, she thinks, lighting her cigarette, the Free State Army and the Dáil are becoming as bad as their past masters. The anti-Treatyites, no longer to be called Republicans in the newspapers, by order of the Free State Director of Communications, but instead 'Irregulars' or 'rebels'. No longer will the Irregulars 'attack' or 'commandeer' or 'arrest', but now 'fire at' or 'loot' or 'kidnap' like common criminals. Her colleagues in the CID 'attend' to their targets. Nobody says 'kill.' 'Shoot.' 'Dispatch.' But this is what she had abetted in the Castle, and it is what she does now: picks targets and sources routes for the shooters. Puts names to faces. A pointer bitch, she thinks. A gundog in her second war now. A proper veteran spook.
Irregulars (pp. 107-108)
That's it for the readings now.
(applause)
Thanks very much. Now a bit more about the CID maybe to start off with. In Peeler and in Irregulars what I'm trying to get at is the underbelly of the founding of the Free State. In the sense that Nation States…you know the accepted view of history that certainly that I was taught, and I think many of us were taught was one of kind of black and white, British/Irish, good/evil, there was a kind of Manichean divide and I've always found the story of the founding of the Irish Free State a little bit too simplistic not that I'm attempting anything greatly revisionist or anything. But I think there is a lot of stuff available there about the founding of the Free State. All nation states in their founding have a nasty underbelly, and I think…and that's not to discount the fact that what resulted was ultimately a very good thing. You know eighty, ninety, seventy-five years of very good stable democracy in a wonderful country. But as a crime novelist particularly I thought crime fiction is the ideal way to examine that underbelly, you know the nastiness that goes on, that is later covered up. You know and the myth then presides, you know, in order to have myths of the founding of any state you have to bury some of the ugly stuff.  What I hope I've done is…I haven't uncovered particularly - all the stuff is there but I hope I've revealed perhaps some of the ugliness that went on, know that the compromises that are made, the very anti-democratic means, that are used to uphold democracy, ironically which again, as I said happens in virtually every state.
So one of the things I discovered anyway the CID were a very nasty crew, as were Free State Army intelligence as well. But I think one of the things that inspired me to write this particular story was the fact that when I looked into CID files in the archives you can't find any. So I asked somebody, I said, 'Why are there no CID files?', and they said 'Well, they were burned in the 1930s. Well I had two dates, one said 1927 and the other said 1933 - every CID case file was burned by the Minister for Home Affairs or the Office of Home Affairs which is now the Department of Justice. So I asked why. One of the archivists was very funny and she said, 'Well, you know, there were no peace and reconciliation committees then.' So I thought this was a really interesting aspect that in order for the Republic to move onwards and to become properly Democratic we had to start fresh. And you had people sitting next to each other in government who had done horrible things to each other and to each others' families and things like this and that in some ways I almost vaguely understand why they did it. I am appalled by it on one hand and particularly looking back at it. Any historian is appalled by it as well. But I can almost vaguely see if we are going to go ahead with this is project that is the Irish nation state, the Republic of Ireland as we know it now. You have to let bygones be bygones in some ways, getting rid of the evidence expedited that. But as a novelist it actually presents a great opportunity. You know, there are accounts of the crimes and we know who committed some of them and we know who shot who and we know the CID men who were killed and like I said there are pension lists and stuff like that that you can find.  And indeed some, though not as many CID as you might expect went into the Guards then when the Garda Síochána was founded. But not many because the state knew that these were not men that maybe police work came naturally to, to put it lightly.  So you can find the pension lists but as a novelist that absence is a great place to work from. Barry Unsworth, the great English historical novelist, always said that he strives for authenticity over veracity. So while I start with real cases as my thing, the absence of files allows you to generate authenticity without having to rely on the veracity of the actual cases.  So I think it kind of his aids you as a fiction writer.
The other thing maybe Dublin at the time too is kind of interesting. In the novel O'Keefe has left the RIC in that passage – he hasn't left it it's been disbanded. And again like I said – and I find this really interesting too, and there is a great novel for someone who wants to do the research, a lot of the RIC men went and joined the Palestinian Police.  So they went from policing a very troubled and sectarian situation here to one in Palestine and Jerusalem there. In fact, in 1922, I can't think of his name, but the Chief of the Palestinian Police was a former RIC man himself.  So he welcomed these RIC men to Palestine and Jerusalem with open arms. A lot of them also went to Manchester and joined the Manchester Police.  It was very sad to say after the boycott and after the War of Independence a lot of RIC men could not go back to their hometowns.  Others, you read did deals with the local IRA. If they were not perceived to have been very vigorous in their persecution or prosecution of the IRA during the War of Independence, some of them, after consultation were allowed to return to their hometowns. Others were not. And another thing that I discovered, which is again not really much in the historical record is a lot of RIC men were shot during the time of the treaty when there was a supposed cease-fire on. They were taken off trains and murdered and things like this on their way home, or a lot of them just disappeared. So we know that a lot emigrated to Canada. We know that a lot went up north and joined the RUC, Palestinian Police, Greater Manchester Police but a lot actually flat-out disappeared. There were scores settled and things like that in that period when it was supposed to be a cease-fire. And that's also not to discount the fact that the RIC did some very nasty things during the War of Independence as well. But O'Keefe then anyway ends up back in Dublin. He's a Dubliner. And discovers that his father is ill and takes on this case for a very powerful madam in Monto in Dublin. So that's the basis for the book.
So what I'd like to do now is take any questions if anybody has some it'd be great if I could.
Q & A
Question 1: Can you tell us a bit about how you did your research? Did you go to the existing archives that still exist or are there any books you can recommend?
Kevin: Yeah it's funny because a lot of the research for Peeler overlapped with this, but then I had to go and look at the Civil War specifically and actually one of things I found most difficult is the Civil War is exceedingly difficult to explain in a fictional sense. You don't want reams and reams of pages explaining things. So to get it down to a fictionally compact unit is very hard to explain. And I had to go and really clarify things for myself. So what I started with is the big books, the Charles Townshend and the Civil War. Townsend has a new book out now actually on the whole period; he's wonderful and in terms of the macro picture. Then oh gosh books….I don't know I read pretty much anything there was. I'm trying to think was there anything really unique, really interesting. I actually managed to get a copy of Charles Dalton's memoirs from the War of Independence. A friend of mine's father lent it to me and it was actually signed by Charles Dalton so it was kind of a precious heirloom which I read very carefully, kid gloves and all. And that was really, really interesting because it kind of disguised form, and I won't say much more about it. Dalton is kind of a character. Dalton was a member of the Dublin Brigade in the War of Independence and was kind of a notorious figure in the Civil War. Now his memoirs only go up to the…finish with the War of Independence. And he was involved with some other things afterwards, possibly, allegedly. So it's almost a primary source; it's not. And of course the archives were a great source, and the memoirs of Irish seamen. Some of the research I did for Peeler was actually more interesting. I went to the Imperial War Museum in London and I looked at diaries from the trenches. O'Keefe is a war veteran I should say that to you. He fought in Gallipoli on V beach. If people are familiar with it – in the doomed landings that the Irish, Dublin and Munster Fusiliers did there at V Beach. I was able to get some diaries from the trenches and from soldiers that had served in Gallipoli. I wanted to get a sense of the experiences for to write about but also I wanted to get a sense of how they talked. One of the diaries is really interesting because he put in every swear word but he just put a line where it would be.  So you just get a sense that this is exactly how people spoke. And one of the things I took from it too, you know, Downton Abbey and things aside, is just how modern…you know I think we tend to think of that period as being quite a long time ago and things were different then, but I think a lot of expressions and things that we use in speech now and think of as very modern were actually quite common then. A lot of the military terms, a lot of the swearing, a lot of the sentiments you know about war and its futility and things like that which we think of as post-war sentiments were actually very existent then. So those are kind of some of the ways I did it. One of the pleasures of being a historical novelist, one of the pleasures and the banes, I suppose because a lot of the research is really fun to do and it's really interesting and you wouldn't write about if you weren't interested in it in the first place. I'm doing a new novel which is not in this series, although I am going back to this series, I've found myself reading the diaries of this Pioneer woman – I'm literally falling asleep reading it and I was thinking why do I have to read this? But you do because the great thing about research is it takes the story in a different direction and quite often you think you have a story set and then you come across like the fact that there were female agents and the story goes in a completely different direction. I love that about research. I tend to research widely first and then go and research for things I need in the story specifically. It's kind of daunting sometimes. I was on the radio with an historian recently and he had a vast, comprehensive knowledge of the subject and I have kind of a fraudulent gadfly's, you know a magpie's knowledge of it because fiction writers research to suit the story as much as anything. I could never write a scholarly treatise on the period. But the research suddenly it will throw something up from the dullest, most banal text and you suddenly think, I have to use that. That's fascinating. Or what often happens too is your story will be going one direction and something you read will confirm it, you know, I wonder if they would have done that? and then suddenly you'll just fortuitously stumble upon something – they did do that. Thank God!
Question 2:  How long did it take you to write it? What do you do when you get writer's block?
Kevin: My first book Peeler took a lot longer time because I had a lot more research about the whole period to do, about World War I, about the War of Independence, about the 1910s, the 1920s itself. That took me about three years to write.  Irregulars took me two years to write – about 6 months of research maybe, and a year and a half writing. I have the day job obviously. In fact there's a great quote I read recently that's…Jess Walter who wrote that book Beautiful Ruins it was quite big this summer, but there was a great quote by him he said when a writer tells you he spent fifteen years writing a book. What he means is he spent thirteen years full of drinking and self-loathing, and two years writing a book. And I thought that was a great quote. So when I say it took me two years - day job, self-loathing, drinking included – it probably took me about a year and a half, two years.
Writers block? Touch wood I haven't gotten it. What I do find happens is if I sit down every day…I say every day, of course I don't. But I tend to get up early in the mornings before work and do it. When I'm writing a rough draft I don't care if it's good or bad. Whatever goes out on the page, goes down on the page and once I get, you know eight hundred to a thousand words done they can be rubbish. But I have this notion that if I have a stack of pages I can always fix them. Sometime you are blocked when you sit down or you can't figure out what's going to happen. But then you just write rubbish and then suddenly something comes out of that.
The other thing I tend to do is I tend to have a story, fermenting I suppose, over a couple of months. So you do have a sense of what you are going to write about generally. But then I don't have any particular plan. I wing it and I just start. I have a scene, maybe or some dialogue and start. And then I get about a third of the way through and I find myself in a cul-de-sac. So then I stop and I plan the rest of it.  I wouldn't be able to the plan it from the very beginning. I know writers do it - literally A this chapter, B this is going to be it.  I would find that a bit…for me personally that it would be almost like work. Whereas I do need to figure it out at one point usually about fifty or sixty pages in, I have to go back and plan. And inevitably where I think I've started the book is always too early. I usually scrap maybe fifty or sixty pages. I usually write the beginnings last, that's one thing I do too. But I always, I just have the faith. I wrote four novels before Peeler was published. None of which were published. I get the sense now that I can do it. If I sit down, something will come and even if it's rubbish and a lot of it is you can always fix it. If you have nothing you can't fix it but if you have a lot you can fix it. So that's the sense I get.
Question 3: Well it turned out very, very good. Coming back to your first excerpt where you were talking about the trams and the sounds of the trams and all that. Is that your imagination purely? I'd be a bit older myself and I thought it was tremendously atmospheric what you said. It would certainly come through very, very well in an audio version of the book. The question remains have you any basis for it?
Kevin: Thank you. Everything – in the way that all things influence. I suppose from films I've seen, from other books I've read. Reading contemporary novels from the period give you a lot of stuff that the drier scholarly texts don't. I mean Strumpet City would be an influence and there are bits of homage throughout. Also the O'Flaherty novels were big.  So reading novels from the period I think is a good way to get that sense. And if you rob little bits here and there or you certainly take images from it and then they are filtered through all the other images you have. What I love about Dublin – I live in County Dublin now, but I lived in the city for eight or nine years and one of the things, coming from abroad like I did, is that I loved the fact that so much of what's in this book and I loved when I first got, there is so much history here.  So you know walking up or driving up Clanbrassil Street now, occasionally you do see a coal wagon with a horse. You don't have trams anymore there or things like that. But I find going around Dublin it's not that big a stretch to imagine what it would have been like. Virtually every locale in the book is still there now for me. I definitely included some of my favourite pubs in different scenes and things like that. So I would say mostly imagination, but in the filtered through those different things. There was a street scene in Peelers where I came across shawlies, the old women...and this was down in Cork City obviously. But the shawlies used to sell mass cards and religious cards and you know relic cards I suppose. But they also under their shawls would keep dirty postcards as well and sell those too and I came across that and I thought, 'I have to use them'. That they are selling both and there is no division between them. So those kind of things you come across and you say, 'Oh I'll stick that in!'
Comment: I'm from the Clanbrassil Street area and I think you got it right. From today you'd have trouble going back to certainly 1922
Kevin: Thanks very much. His house where he lives, I can't think of the address – it's in there someplace. But I actually found it on Google Maps. It was the first time I'd ever used Google Street View. So I knew from the earlier book - and it was just a throw away - that he had Jewish neighbours I think that's why so I had to have an area...but I actually found it on Google Street View.
One of the reason I wrote Irregulars as a noir novel to some extent is that it was a particularly dark period of Irish history much more so than the War of Independence. There's a lot of British intelligence reports you can read that say just how little touting there was, or little informing there was during the War of Independence. Although people were appalled by some of the atrocities in the War of Independence it was a generally popular campaign, generally, I say, again someone could debate that obviously but whereas the Civil War was far nastier, so much personal enmity. Again I read a statistic somewhere that something like seventy percent of all the killings in the War of Independence were done with a revolver, so that shows you how close you had to be and it's a very similar statistic for the Civil War. It's slightly lower. There was actually more pitched fighting in some ways there were actually battle lines and things like that in Limerick and in a few other places in the Civil War than in the traditional guerrilla war of the War of Independence. But the thing that stands out is how well everyone knew everybody. Obviously you have a huge increase in people joining the Free State army, mainly for wages because the economy was bad and people needed a wage. Truce-aleers they were called, who had no kind of part in the War of Independence but then joined up afterwards. The greatest term of derision used by anyone with Republican leanings was, 'oh he's a truce-aleer'; he joined after the truce. But at the ground level, particularly in Dublin everyone knew who was shooting at you pretty much and there were cases of people torturing people they had fought alongside.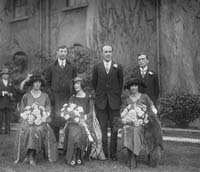 One account I read and this is debateable, I'm not sure if this is true or not was that the big attack by the Irregulars, by the Republicans on Wellington Barracks, Griffith Barracks now, was because certain Free State Intelligence Officer ran a torture centre, in what is now primary school interestingly. They had tortured one commander's brother and so they said we are going to attack the whole barracks. And they did and they killed one or two Free State guys but they lost seven or eight in the ensuing pursuit and in fact they actually captured a bunch of guys who were innocent and killed them too.  Things were so personal. You know O'Higgins and the executions as well - the best man at his wedding – whose name escapes me – [Rory] O'Connor.
Image right: O'Higgin's wedding - back row l-r: Éamon de Valera, Kevin O'Higgins and O'Connor at O'Higgins' wedding, 1921. O'Higgins was later to sign O'Connor's execution order
Sorry there was a question there.
Question 4: Your character O'Keefe sounds very much like Harry Bosch or John Rebus. Was that your idea to create a character who is kind of suspicious of everybody and doesn't trust anyone.
Kevin: Well funnily enough I love the Michael Connolly novels. I loved them. I wasn't aware until after Peeler, but Harry Bosch is a Vietnam vet and he's a World War I vet, he's a policeman and he was definitely an influence on me.  Michael Connolly is coming to Trinity College, he's launching his book. There is an Irish Crime Fiction: A Festival is on in Trinity College - I am plugging it here - the 22nd- 23rd November and there is a panel speaking on historical crime fiction which I'm part of and Eoin McNamee is chairing it. He's one of my favourite Irish writers as well, he's wonderful. Michael Connolly is launching his book, his newest book. It's the first time he's been to Ireland so I'm really looking forward to that because he'd be an influence.
Question 5: Why did you decide historical crime fiction instead of just modern crime fiction?
Kevin: I've always read crime fiction. I read everything kind of basically. But I've always loved crime fiction I suppose but at the same time I have a great love of history and the two kind of combined. My mother-in-law's father, so my wife's grandfather was an RIC man. It was several years into my marriage before I figured this out and my mother-in-law had a copy of Jim Herlihy's RIC: A Genealogical Guide [The Royal Irish Constabulary: A short history & genealogical guide with a select list of medals and casualties. Jim Herlihy foreword by Kevin B. Nowlan]. And I picked it up and thought this is really interesting and at the same time I think I was looking to write another book – I'd had no success with the last one.  You know you are in kind of a fallow period and everything strikes you as a good idea for a novel. You know you watch a football match and you think that's a great idea for a novel and then you end up discarding most of them, but then some stick.  So I picked up this and read this and the very same evening, or shortly afterwards I watched a documentary during the big push in Iraq, in Fallujah. I watched a think it was BBC documentary on the Iraqi police that were working alongside the American troops and how they were being targeted and things like this and things started crossing over and I thought wow that's a very similar experience that these Iraqi men must be having to what the common garden RIC man had during the War of Independence with the boycott and the targeting and everything else. And as I started to think who were the RIC? The RIC, if you look at any guard out on Moore Street they were exactly them. They were ninety-eight percent Irish, this is before the introduction of the Black and Tans and the auxiliaries. But they were ninety-eight per cent Irish, Catholic, most of them were in favour of some sort of Home Rule. They were big men. They had to be over a certain size and they had to have girth requirements. They had to have a certain level of literacy and numeracy, which was higher generally than average. It was a job for life. They married teachers. You know they were exactly the same yet they were shot down in every town in this country they were shot. I wanted to write it. I thought it was perfect for a crime novel you know. And then I started reading more too. A lot of them joined up and fought in World War I and then came back to their jobs and how traumatized they must have been there. There was just a lot that was ripe for a novel.  I think it was one of those rare things where it stuck and you think, I'll try it.  Then you write ten pages, you write twenty, thirty and fifty and you realise I can't stop now.
Characters sort of develop themselves when they start talking they kind of develop personalities.  And then of course there are crime novel staples that that you use. Although in the passage he talks about drinking too much he's not your typical alcoholic, divorced, rule-breaking detective. In fact when he's in the RIC it's one of the things that he thinks will maintain order is if everyone still follows the rules. He views the insurrection or the War of Independence as people stopping…they are not following the rules anymore and where there's no rules, no order, there's chaos and there's murders and there's things like this. I hope he is somewhat different than the average detective, but of course he is recognizable as a fictional detective as well.
Question 6: How do you write? Do you write on paper or do you use a word processor?
Kevin: Mainly computer. I went to High School in America and we were forced to take typing and still one of the most useful classes I ever took was typing. I can type faster than I can hand write. Although the new novel I'm writing now just as an experiment I wanted to try and hand write it.  I've found two things. One that you do write slightly differently I find. Now it's a very different subject matter. There's a different degree of flow, there's a physicality to it that's slightly different. And when I'm typing it up now I'm finding the sentences…they're longer. I've a tendency towards long sentences anyway. Half my life is spent chopping sentences into three or four sentences. But I find there's a flow to it that's very different from typing. I'm not saying it's better or worse. The other thing I'm finding is that it's really hard to keep up with transcribing it onto the typewriter without changing it as you're going along. I'm a big believer in just write the draft. Get it finished. Don't change anything. Don't even look back at it. Because every time you look back at it and try to edit while you are working you kind of start to panic… oh this is no good. But what I've found it I have so many reams of notebooks that I'm having to transcribe it and then it's very difficult not to edit, to self-edit while you are typing. So it's a longer process too. You are writing, then you are typing, then you are editing, then you are editing kind of thing. So I think I'll continue with it. I'm about a third of the way done with the new one and I think I'll continue with it because I've like it so far. But it's different. So I think I'm comfortable enough typing you know that kind of way.
Question 7: Do you reject much of what you've typed? or do you feel I've done it and I can't reject it.
Kevin: No, no I throw out a lot. I came across this quote the other day, I think it's Hemingway or someone who said, 'write drunk. Edit sober'. Hemingway was kind of a blow hard as well and I doubt that he did much drunk-writing in fact. I don't think he meant actually inebriated, I think he meant write with abandon and write without any kind of inhibitions or things like that. But then you cast a really cold sober eye on it and most of what you find yourself doing is going, that's rubbish, that's rubbish. Cut it out. Occasionally you come across some and you think, that's good. And then you really read it again a month later you think that could need changes. Even as I'm doing my readings here I'm still putting commas into my head and changing words as I read even still. It's never perfect.  What's the phrase? 'Kill your darlings'. You know some of the best things you write you have to kill. An editor for Peeler wanted two or three whole chapters removed and I was happy to remove two of them, but one of them, I insisted on leaving in and she was fine with that too. But I still think that's the best chapter in the book that she wanted me to cut. Whereas the other chapters I thought were really well-written but she was right they didn't serve the story particularly well. So I'm not too precious about it if it bottles it up. I still see pieces here where I could have cut and then other bits where I could have added more.
Comment:  Was it George Bernard Shaw who wrote to Mrs Patrick Campbell, Madam I am writing you this long letter because I do not have time to write a short letter.
Kevin: It's great. I love that. Someone else said too that 'hard reading is easy writing; and easy reading is hard writing'. And I think there's really some truth to that. Not to discount any of the wonderful experimental postmodern novels that we've all read. But if it's hard on the reader there is an easier way to say it and I think it's the writer's duty to try to find that way. Hemingway himself said he would rewrite things twenty, thirty times – sentences alone and that comes across. Which is why I don't believe he wrote drunk in the first place. Anything else? I think we'll leave it there then if that's okay. Thanks very much. I appreciate it.
 
Thank-you for listening to the Dublin City Public Libraries and Archive Podcast. To hear more, please subscribe on iTunes or SoundCloud. You can also visit our website - dublincitypubliclibraries.ie and follow us on Twitter and Facebook.