Learn a new language with online resources
Published on 21st July 2021
Always wanted to learn a new language or improve your school French or German?
Do it for free with some of Dublin City Libraries' online resources: Transparent Language Online, uTalk and Road to IELTS.
Transparent Language Online
You can learn 110 plus languages including French, German, Spanish, Italian and Irish but also more exotic tongues such as Afrikaans, Bengali, Breton, Dakota, Farsi, and Maori. For those of you learning English as a second language, you can do so through thirty-one interface languages. Thus, you can study English through French, German and Spanish etc. but also through Thai, Arabic, Turkish and Romanian for example.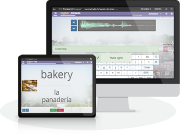 Transparent features a flexible learning path, meaning you can stick to a structured course made up of a number of units containing three lessons and an assessment, or you can follow the Practice activities in Listening, Speaking, Reading and Writing. You could, of course, do a combination of both. The units feature real-life themes such as Organising your Trip, Staying at a Hotel and Dealing with Money. You can follow your progress through reports that are automatically generated and a Learned Vocabulary tracker, which also act as a motivation to progress. A grammatical approach is also catered for with a comprehensive grammar reference section including verb conjugations, nouns, adjectives, adverbs, and commonly confused words.
In my opinion, the best and most fun feature is the speech recognition tool where you listen to a word or phrase spoken by a native speaker, then record your own attempt at pronunciation and see your score on a dial. You can listen to your attempt and compare with the original and repeat the process to try and increase your score. A graphic speech wave pattern also appears as an aid to pronunciation.
If you are learning English or one of the major European languages, in addition to the structured course you have access under the Browse tab to many practice activities such as immersion conversation activities at elementary to advanced levels. These include topics such as Finance, Medical, Moving Overseas and Home Sweet Home (topical or what?). Under the Resources tab there is access to features such as Word of the Day, Blogs, Transparent on Facebook, Twitter, YouTube, PDF resources and a Proficiency Test with fifty questions.
There are courses for children too with "Kidspeak" in six languages: Chinese, English, French, German, Italian and Spanish. Using colourful animation this contains lessons on the alphabet, colours, numbers, and songs along with downloadable puzzles and activity PDFs.
Library members can access Transparent Language on our Dublin City Libraries website using their Library card number and PIN.

uTalk is another of Dublin City Libraries' online language-learning resources. With this you can learn the basics of over 140 languages including familiar languages such as Italian, Russian, German, French, Chinese, Japanese, French, Spanish and Irish. There are also lots of minority languages like Albanian, Basque, Burmese, Esperanto, Sicilian, Mongolian, Urdu and even Cockney! There are almost as many (130) interface/help languages, so for example, if you are Brazilian you could learn Polish through Brazilian Portuguese or if you are from Spain you could try Irish through Spanish.
Each language consists of sixty-four topics with thirty-five plus words/phrases in each – a total of 2,200 phrases. The topics cover real-life situations you could encounter on a visit to that country, including sections on transport, restaurant, shopping, directions, emergencies, and social phrases. Intelligence gathering is also a topic, perhaps not a real-life situation for most of us! In addition, there are sections on the alphabet, prepositions, and adjectives.
The method of learning is chiefly through listening, speaking and game playing. You listen repeatedly to words and phrases spoken by native speakers - each phrase is heard with a male and female voice for diversity. You can listen at normal speed and use a slow speed option, then record yourself and compare your effort to the native pronunciation, repeating as often as you wish. Your learning is then consolidated by use of a game where you match the card shown to a phrase you have just learned. With the Speaking Game you record yourself against your own pronunciation. Having recorded a few given phrases, you then must identify these phrases when they are presented back to you visually by a virtual card. There are also memory games in which you match the phrase to a card, playing against the clock and a final game where you test your recall and pronunciation of all the phrases in the topic.
Registration is required at the Central Library. You will be given an access code which will enable you to unlock all languages. You can register for uTalk by emailing [email protected] with your name and Dublin City Library card number. Once you have registered you can then download uTalk to your PC or the uTalk app to your device/phone/tablet and sign in using your email address and password.
Road to IELTS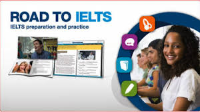 Road to IELTS is another online language learning resource provided by Dublin City Libraries for those learning English and specifically those preparing for the IELTS exam. The International English Language Testing System, or IELTS™, is an international standardised test of English language proficiency for non-native English language speakers, very often needed to work or study in an English-speaking country. Road to IELTS is the British Council's official website for preparation for this exam.
The course includes material to prepare for the 4 skills tested in the General Exam: Reading, Listening, Speaking and Writing. Material for each skill is very clearly laid-out in four areas: Starting Out, Advice & Tutorials, Practice Zone and Test Practice. Starting Out contains short videos giving you key facts on each test along with a 7-page e-book/pdf with information and tips on how to approach the test. Advice & Tutorials contains more videos with practical advice and suggestions from British Council teachers on how to maximise your score in each skill test. For example, under Speaking there's advice on how to cope with nerves and a video of a real test with a real candidate.
The Practice Zones are the real bones of the course and are divided into sets, about 12 in each, with real examples of the type of questions used in the exam. They are ordered in increasing level of difficulty. For example, under Reading you can practice sentence completion, matching information to paragraphs and multiple choice, among others. Clicking on Tips, you can get relevant advice before you start. Then, after writing your answers click on Marking and you get your result. You can start again to try and correct wrong answers or click on Show the Answers to see the correct version.
In Test Practice there is access to 36 real tests. You can do simulated timed tests on a PC which you submit and get your score immediately or you can do it by paper by printing test papers, answer sheets and the answer key. Other features include a Resource bank featuring a study planner and study guide for each skill test. There are videos of former candidates giving advice on how to approach each test. Progress Report shows you how much you have done and compares your score in each practice area, giving you a score breakdown in each skill. As in the case of uTalk, access to Road to IELTS is administered by the Central Library Dublin. Send an email to [email protected] requesting a link to the registration page.