Liam Ó Briain's Insurrection Memories 1916
Published on 10th September 2019

Last May, I was delighted to attend the Dublin launch of a book entitled 'Essays by an Irish Rebel: revolution, politics and culture' by Liam Ó Briain.  A very enjoyable read, the book features twenty-five essays by the Dublin academic and revolutionary Liam Ó Briain (1888-1974), all of which were published in Irish from 1934 to 1968, as well as three appreciations of the author.
All have now been edited and translated into English by Eoin Ó Dochartaigh, a retired doctor from Galway who graduated from University College Galway (now NUI Galway) and knew Ó Briain as a family friend.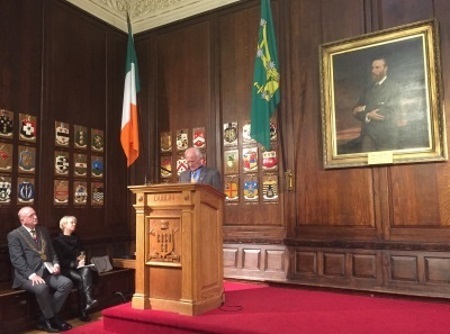 Above: Eoin Ó Dochartaigh speaking at the launch of his edited book 'Essays by an Irish Rebel: revolution, politics and culture', at the Mansion House in May 2019.
The launch inspired me to read 'Insurrection Memories 1916', a complimentary volume described by historian Owen Dudley-Edwards as 'a rich memory of a great man'. This personal account of the Easter Rising was first published in Irish in 1951 as 'Cuimhní Cinn'. In 2014 Fran O'Brien, the author's grand-niece, translated the work into English and published it as a bilingual volume. Two years later, to mark the centenary of the Easter Rising, Ó Dochartaigh then brought out a new translation. Like 'Essays by an Irish Rebel', this was published by Ardcrú Books in Galway.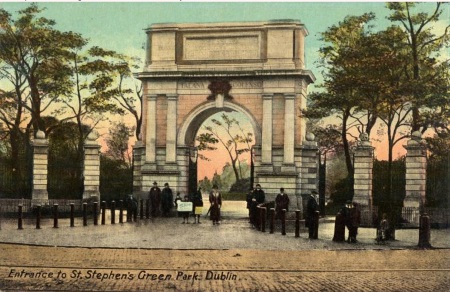 Above: Undated postcard showing the entrance to St. Stephen's Green Park. Courtesy of Dublin City Library & Archive. [PCV04-90]
'Insurrection Memories 1916' is an intimate account of what Liam Ó Briain observed while participating in the Easter Rising. The book begins in 1914, with Ó Briain returning to Ireland after spending three years studying on the continent (mostly Germany). Joining the Irish Volunteers, Ó Briain also became a member of the Irish Republican Brotherhood the following year and went on to take part in the Easter Rising. As a member of F. Company of the First Battalion of the Volunteers, Ó Briain had been scheduled to join the Four Courts garrison under the command of Ned Daly. However, after getting waylaid carrying out messages for Eoin MacNeill on the morning of Easter Monday, he found himself instead spontaneously joining the Stephen's Green garrison with his friend Harry Nicholls.
During the Rising Ó Briain impressed Captain Bob de Couer of the Irish Citizen Army enough to be promoted to the rank of Corporal. Afterwards he was among those imprisoned in Wandsworth Common prison in London until late June, and Frongoch Camp in North Wales until Christmas 1916 (which he later described as 'the best university' he ever attended). Ó Briain stood as a Sinn Fein candidate in Armagh during the 1918 General Election and was imprisoned in Galway during the War of Independence. A native of Dublin, he would go on to serve as Professor of Romance Languages at University College Galway from 1918 to 1959.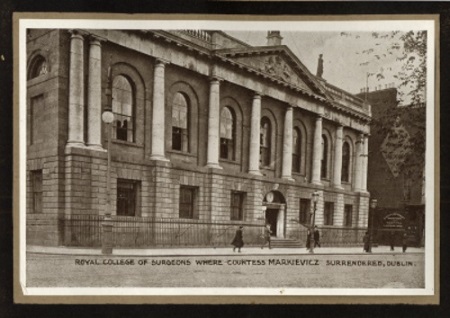 Above: Photograph of the College of Surgeons taken after the Easter Rising to show 'where Countess Markievicz surrendered'. Courtesy of Dublin City Library & Archive. [BOR F34-18]
Blog Post by: Dr. James Curry, Historian in Residence, North West Area.