Published on 24th November 2022
The Library in the Community section of Dublin City Libraries aims to break down barriers by creating libraries beyond walls. We visit people who may not be able to easily access their local library branch and offer a range of services including library services presentations, library card sign up and information sessions, one to one digital literacy training, home delivery services, pop up libraries, outreach book collections, story times and crafts, and the hosting of cultural events in community locations.
Please contact [email protected] if you would like to arrange a visit from a Library in the Community staff member. 
Louise, the Librarian responsible for the Library in the Community announced: 
"There's a pop up library in the Orchard Centre, Cherry Orchard on the 6th of December; two staff members from Ballyfermot library are overseeing multiple storytimes and the pop-up library will be in place from 9.30am to 4ish. 
Students are brought over by their teacher to browse the books in the pop-up library, and find out how the library works! I'll also have a Christmas colouring competition on the day. So it's all happening. 
I've another presentation for the Ballymun University of the Third Age (U3A) group earmarked for December and I'll be collaborating with the Historian-in-Residence for Children around the provison of school workshops for late November/early December." 
Below: Dublin Festival of History "Big Weekend" 2022 in Trinity Biomedical Studies Department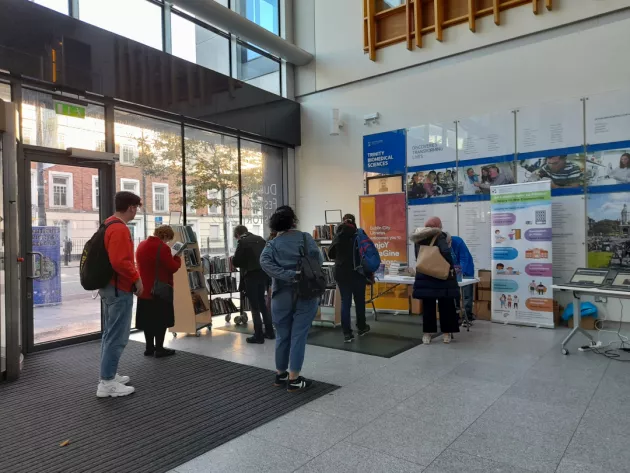 From Meet the Librarian to demo the new Library Locker to information sessions in Community Hubs; Family Fun Days; Rose Festival; Eat the Streets; Dublin Climate Action Week; Dublin Festival of History; Dockers and Demons Festival; this busy and in-demand service is an integral part of a dynamic, responsive, and inclusive public library service.
Cabra Bibliographic Centre is home to the Library in the Community service. They operate a home delivery service for older people. Users of the service can request books by genre and format (large print and audiobooks are especially popular). 
A driver delivers bags of books to the borrower's home. The home delivery service has been a great success. To avail of this service: T: 222 4770 or E: [email protected] 
Some of the activites organised with Library in the Community include The Very Hungry Caterpillar and The Gruffalo puppet show presented by No Strings Theatre Company;  'The Magic of Music' presented by Catherine Dunphy - incorporating stories, music, dancing, singing, and musical instruments.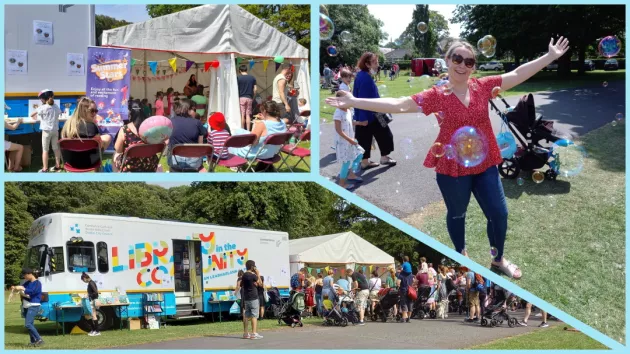 Testimonials from people engaged with Library in the Community 
Happy customers are our biggest advocates. 
"Thoroughly enjoyed your presentation. It opened up a whole new world for me with regard to making optimum use of my local library. On Thursday evening I used BorrowBox and have two great books for my holidays! I am also really interested in the Universal Class - can't wait!"
"I am a regular user of Raheny library but did not realize all that is available online".
Below - Library in the Community (clockwise) - Older Persons Information Expo in the Ballymun Civic Centre, Rumpus in the Round, Festival of History, Book collection in Fold Housing, Ballygall Road, Glasnevin, (centre) Festival of History.