The many addresses of James Joyce
Published on 2nd February 2022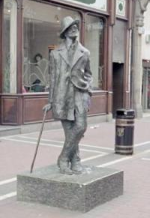 The world as we know it has changed rapidly since Ireland recorded its first cases of Covid-19. The pandemic made me think about various addresses I have lived at before; from digs to bedsits and flats.
However, Joyce's addresses number far more. Seven St. Peter's Terrace is the house where Joyce's mother, May, died. Her death would haunt him for the rest of his life and justifiably has the most historic significance.The picture above was taken from Dublin City Libraries and Archive Digital Repository. Here you will find a variety of digital records relating to Dublin from different time periods, including photographs, postcards, letters, maps and ephemeral material. Highlights of the collection include the Fáilte Ireland Photographic Collection, Wide Street Commission Map Collection (1757-1851), the Irish Theatre Archive and the Birth of the Republic Collection, which comprises material from the period of the foundation of the Irish state.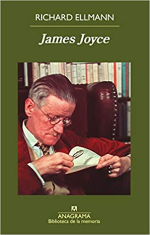 Richard Ellman explored this in his biography of Joyce. John Joyce's terrible finances kept his family moving.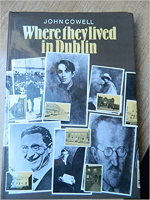 Where They Lived in Dublin by John Cowell covers the addresses of famous Dubliners.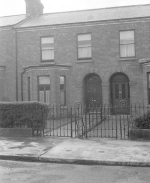 41 Brighton Square. The Joyce listing is incredible because of the length:
1884-87     23 Castlewood Avenue, Rathmines
1887-91     1 Martello Terrace, Bray
1892-93     Leoville, 23 Carysfort Avenue, Blackrock
1893-94     14 Fitzgibbon Street and 29 Hardwicke Street
1894           2 Millbourne Avenue, Drumcondra
1895           17 North Richmond Street
1896-99      29 Windsor Avenue, Fairview
1899            7 Convent Avenue, Fairview
1899-1900  15 Richmond Avenue, Fairview
1900-01      8 Royal Terrace (now Inverness Terrace), Fairview
1902            32 Glengariff Parade, North Circular Road
1902-03      7 St. Peter's Terrace (now St. Peter's Road), Phibsboro
1904            60 Shelbourne Road, Ballsbridge
1904            35 Strand Road, Sandymount
1904            103 Strand Road, Sandymount
1904            Martello Tower, Sandycove
1909            44 Fontenoy Street
1912            17-21 Richmond Place, North Circular Road
Horse Cab Tour of Joyce's House