The Monica Roberts Collection Available Online!
Published on 7th December 2021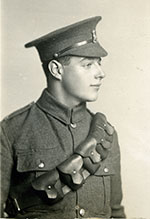 At the outbreak of the First World War, Monica Roberts was a young upper-class woman who lived at Kelston, Stillorgan, Co. Dublin. Together with her friends, she set up a 'Band of Helpers to the Soldiers' to provide gifts and comforts to men at the Western Front, who were members of the Royal Dublin Fusiliers or the Royal Flying Corps. The group sent cigarettes and tobacco, socks and vaseline for tired feet, handkerchiefs, boot-laces, chocolate, peppermint, oxo and dried fruit. Monica Roberts included a letter with her gifts and the recipients replied to her, setting up a correspondence. The letters from the soldiers give a vivid picture of conditions at the Front, and also include comments on contemporary politics. Of particular interest are remarks from soldiers regarding the 1916 Rising. Included in the collection and available here online is Monica Roberts' contemporary diary from Easter Week 1916, which includes her eye-witness account of the Rising.
The collection contains 453 letters from 56 soldiers, who are mainly from the lower ranks; there is only one letter from Monica Roberts. These letters were kept for many years by Monica's daughter Mary Shackleton, who gave them to Tom Burke M.B.E., Chairman of the Royal Dublin Fusiliers Association. Since 2005, the collection has been housed in Dublin City Library and Archive, as part of the Royal Dublin Fusiliers Association Archive. We would be particularly interested in hearing from descendants of those soldiers featured in the collection, or indeed from anyone holding letters from Monica Roberts to the soldiers. Please e-mail [email protected].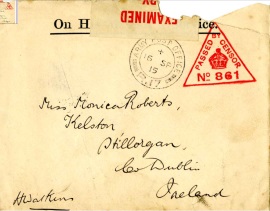 This online publication of the Monica Roberts Collection is a Dublin City Council project, under the direction of Margaret Hayes, Dublin City Librarian, Brendan Teeling, Deputy City Librarian and Dr. Mary Clark, Dublin City Archivist. Project management is by Ellen Murphy, Senior Archivist, Dublin City Archives. Initial arrangement and cataloguing of the collection was by the late Andrew O'Brien, while scanning of the collection is by Christian Keegan, both of Dublin City Archives. Each letter was carefully transcribed by Finola Frawley of Dublin City Archives, who also translated letters written in French. A guide to the collection was prepared by Lisa Murphy, Dublin City Archives Intern (2012). Preparation of the collection for online publication is by genealogist John Grenham, who provided full text searching, and linked the original documents to the transcripts.
Dublin City Council is publishing these letters online as part of its programme for the Decade of Commemorations, 1913-1923.
Access A Guide to the Monica Roberts Collection (pdf, 1.77mb)