My Area in 1916, Mo Cheantar agus 1916
Published on 26th May 2016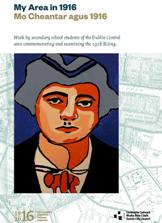 This new publication looks at 1916 in central Dublin, an area which formed the backbone of the 1916 Rising. We know that many of the men and women who fought in the 1916 Rising were from the north inner-city area with 287 of those who fought in the GPO alone hailing from this part of the city. The book is a collaboration between six secondary schools in the Dublin Central area and was coordinated by project historian Donal Fallon and Dublin City Public Libraries. It draws on original research by students on the 1916 Rising in their area.
Image: Book cover showing Margaret Skinnider by Shauna Delahunty, Mount Carmel
Congratulations to all the students who showed wonderful creativity and enthusiasm in commemorating and studying the Easter Rising in their local area. Belvedere College focused on some of the key figures of the Rising, but also looked into some of the alternative voices and included the poignant story of 'A lost child', civilian victim Paddy Fetherston. The creative students of Mount Carmel submitted fantastic art work and poetry celebrating the leaders of the Rising. Larkin Community College used photos and images to make an interesting visual comparison between Dublin then and now. Students of St Paul's CBS penned their vision for Ireland which provides an insight into how young people view the Ireland of today. The publication is brought to life by the original artwork by the students, portraits by Seán O'Sullivan, RHA; and rarely seen images from the Dublin City Library & Archive 'Birth of the Republic Collection'.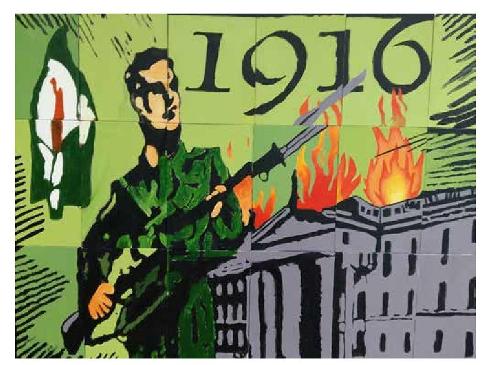 Image above: Mount Carmel Second Year Group Collage. This image of an Irish Volunteer beside the GPO is based on a celebrated stamp commemorating the rebellion. The students have included the Easter Lily, a commemorative symbol from the 1920s first introduced by the remnants of Cumann na mBan as a fundraiser.
The book is available to borrow from Central Library, Ilac Centre, Charleville Mall Library, Drumcondra Library and Phibsboro Library.
The six schools who took part in the project are:
Larkin Community College, Cathal Brugha St, Dublin 1
O'Connell School, North Richmond St, Dublin 1
Mount Carmel Secondary School, King's Inn St, Dublin 1
St Pauls CBS, North Brunswick St, Dublin 7
St. Joseph's Secondary School, Stanhope Street (off Manor Street), Dublin 7
Belvedere College, 6 Great Denmark Street, Dublin 1, Ireland
Thank you to all the students and their teachers for their hard work without which this book would not have been possible.
The project was managed by Dublin City Public Libraries and funded by the Dublin City Council's Central Area Office.