North Strand Bombing and the Emergency in Ireland
Published on 24th June 2010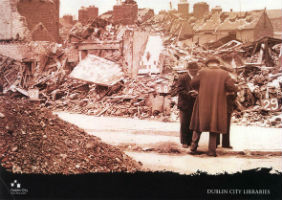 The bombing of Dublin's North Strand by Nazi aircraft on 31st May 1941 was an assault on Ireland's neutrality. The casualties were many: 28 dead and 90 injured, with 300 houses damaged or destroyed. The North Strand Bombing and the Emergency in Ireland seminar featured talks about various aspects of the bombing including censorship, compensation, and the role of the emergency services. This full day seminar to commemorate the tragedy was held at Dublin City Library & Archive on Saturday 29th May 2010.
Volume 2 of the North Strand Bombings Oral History Project was also launched at the seminar. Initiated in 2009, the North Strand Bombing Oral History Project aims to collect eyewitness accounts of that fateful night and its aftermath.
Dublin City Archives hold a collection of 57 photographs illustrating the aftermath of the North Strand Bombing, May 1941. The photographs were commissioned by Dublin Corporation as evidence for the assessment of insurance claims. Read more about North Strand Bombing, 1941.
The Other German Bombings of Ireland: German bombings of Ireland 1940-41 by Eoin Bairéad
In 'The other bombings: German bombings of Ireland, August 1940 to July 1941', Eoin Bairéad discusses the causes and consequences of the German bombings of Ireland during the period 1940 to 1941, including the bombings in Campile, Co. Wexford; Donore in Dublin and Belfast. Eoin Bairéad has an M.A. in Local History from NUI Maynooth where his main thesis concerned the bombing of Donore Terrace, South Circular Road, Dublin in January 1941.
The work is published as The bombing of Dolphin's Barn, Dublin, 1941 in the Maynooth Studies in Local History series, 2010.
To view this, you must update your

The Transformation of the Irish Army during the Emergency by Colonel Donal O'Carroll
The Effects of War-Time Censorship on Historical Sources regarding the North Strand Bombing 1941 by Kevin O'Connor
'Hostile aircraft approaching Irish coast' –The air defence of Dublin and the North Strand Bombing by Michael Kennedy
Dr Michael Kennedy is the Executive Editor of the Royal Irish Academy's Documents on Irish Foreign Policy series – volume VII (1941-45) of which will be published later this year and will cover the North Strand bombing. He has published widely on Irish political, diplomatic and military history. His 'Guarding Neutral Ireland' (published in 2008) was the first book to examine the North Strand bombing from a military perspective.  Michael Kennedy and Victor Laing's publication The Irish defence forces 1940-1949, the Chief of Staff's reports is available for consultation in the Reading Room, Dublin City Library & Archive, 138-144 Pearse Street, Dublin 2.