The Opening of Luke Kelly Bridge 1985
Published on 21st March 2016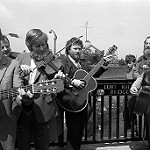 Digging through the photographic collections of the Dublin & Irish Collections, Pearse Street, I came across this set of photos from May 31st 1985. These photos were of the instantly recognisable collection of beards known as the 'The Dubliners' standing on a bridge playing music.
The event was the unveiling of a plaque that announced the renaming the Ballybough Bridge to the Luke Kelly Bridge. The bridge spans the Tolka River and connects Fairview with the city. The idea to change the name had been put forward by then TD Tony Gregory. The bridge had been on the site since the late 1400s and was in the process of being upgraded. It was being widened to allow for 5 lanes of traffic.
The decision to name the bridge after the singer was not without controversy. The Irish Times in 1984 reported that the residents in the area thought the bridge could be named after a 'more illustrious' person from the area. Tom Clarke being another choice, he grew up not far from the area around the bridge.
Luke died on the 30th January 1984 after suffering a brain haemorrhage in Dublin after falling ill while on tour with the group in Germany. He grew up on Sheriff Street which was about two kilometres from the bridge.
The photos are also interesting for some of the other members of the congregation. Among the small group of people on the bridge of the day of its unveiling were: one former Taoiseach, who would be elected again to the office two years later, Charles Haughey; one future Taoiseach Bertie Ahern (see if you can spot him!) and the future president Michael D. Higgins. Also present were current and former members of the Dubliners, Kelly's Widow, the actress Deidre O'Connell, and singer Christy Moore. The Lord Mayor of Dublin, Michael O'Halloran, and Frank Feely, Dublin City Manager, opened the bridge.
The Luke Kelly Bridge was refurbished again in 2004 and to celebrate that day the singer's niece, Niamh Kelly, played Raglan Road on the violin.
About Our Guest Blogger
Written by Joe Melican. Solas Student in the National Print Museum, on work Experience in Dublin City Library & Archive, Pearse Street.