Published on 21st October 2021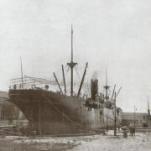 The River Liffey, and the port that lies at its mouth, is the commercial lifeblood of Dublin city. This image gallery celebrates the Port of Dublin and those who worked in it throughout the twentieth century. From dockers and shipwrights to barge-men and captains of industry, 'all along the riverrun' they made their livelihoods.
Viking ships sailed up the port to discharge their cargoes and steal away the plunder of the land. In the sixteenth century, vessels unloaded their goods at Merchant's Quay and Wood Quay. Dublin was given a great commercial totem in 1791 with the construction of a new Custom House building and the development of the docks. In 1867 the management of the port was put into the hands of the Dublin Port and Docks Board.
Many of the images are taken from a fascinating publication: The Port of Dublin, Official Handbook (Dublin, Wilson Hartnell, 1926). These are supplemented with images from the Dublin City Council Photographic Collection to provide a visual record of the development of the Port of Dublin during the twentieth century.
Further Resources
Dublin City Libraries has a wide range of sources on the social, political, and cultural history of Dublin, some of which are available online and some through the Dublin City Libraries network.
The Reading Room, Dublin City Library and Archive, Pearse Street holds a wealth of material on the history of Dublin, including books, pamphlets, journals, street directories, and almanacs.
The following online resources can be accessed free of charge at your local library. Ask library staff for information and assistance.
For further reading, consult the Library Catalogue.