Portraits of Women Writers, Activists and Artists in Early 20th Century
Published on 25th May 2020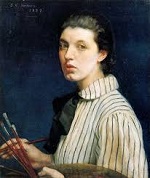 In this episode of the DCLA podcast, Jessica Fahy examines the choices made in the portrayal of significant Irish women by leading artists of the day. How a woman is presented in portraiture says a lot about how society views women at that time, and may even still inform our opinions today, while their self-portraits often reveal their identities as the women saw themselves. 
Learn more about Countess Markievicz, Eva Gore Booth, Maud Gonne, Lady Gregory and Grace Plunkett and Sarah Cecilia Harrison. The latter was the first woman elected to Dublin City Council following a law change which allowed women to run for local elections, winning more votes than all her opponents combined in 1912.
Recorded at DLR LexIcon on 23 April 2018, with thanks to Marian Keyes, Dún Laoghaire-Rathdown Libraries for making this recording available to us.
List of artworks mentioned:
Countess Markievicz by her husband Casimir Markievicz (1889)
Photograph of Countess Markievicz and Casimir Markievicz
The Arrest by Kathleen Fox. Niland Collection, Sligo County Museum
Painted by Constance Markievicz while in solitary confinement in Holloway Jail. credit Sligoheritage.com
Eva Gore Both by Countess Markievicz (sketch of Eva) Lissadell House Collection
Photograph of Constance and Eva Gore Booth staged to protest the licencing act
Portrait of Constance and Eva Gore Booth by Sarah Purser Lissadell House Collection
Sarah Purser by Countess Markievicz
Maud Gonne by Sarah Purser (1890) Hugh Lane Gallery
Maud Gonne by Sarah Purser (1898) Hugh Lane Gallery
Maud Gonne as Eire by Beatrice Elvery 
Lady Gregory by John Butler Yeats
Portrait of Beatrice Elvery by William Orpen (1909)
Self portrait by Margaret Clarke
Mary and Bridit by Margaret Clarke 
Portrait of Harry Clarke by Margaret Clarke
Portrait of Harry Clarke by Grace Plunkett
Young Ireland, Grace Gifford by William Orpen (1907)
John McCormack by Grace Gifford
W.B. Yeats by Grace Gifford
Countess Markievicz by Grace Gifford
Should Men have the Vote by Grace Gifford
Self-portrait by Sarah Cecilia Harrison (1889) The Hugh Lane
Mr and Mrs Haslam by Sarah Cecilia Harrison The Hugh Lane
Evie Hone by Norah McGuinness (1951)
Jessica Fahy is a freelance art historian based in Dublin, Ireland. Jessica has been teaching and researching various areas of European art for over 10 years and is passionate about sharing her love for the subject in an engaging and interactive way.
She teaches at UCD Adult education and the National Gallery of Ireland.
You can subscribe to the Dublin City Libraries and Archives podcast on Soundcloud, iTunes, Stitcher, Spotify or wherever you get your podcasts. This season is based on recordings from the 2018 Dublin: One City, One Book events. Dublin: One City, One Book is an award-winning Dublin City Council initiative, led by Dublin City Libraries and Dublin UNESCO City of Literature, that encourages everyone to read a particular book during the month of April every year. 2018's choice was 'The Long Gaze Back' which you can read on Borrowbox and of course you can order it from library or your favourite bookshop.
The Dublin: One City, One Book for 2020 is Tatty by Christine Dwyer Hickey, available electronically on our BorrowBox app and from your favourite bookseller.
Finally if you're interested in podcasts why not check out the Dublin Festival of History podcast which features recordings from the free annual event and the new City of Books podcast with Martina Devlin, the podcast for people who believe stories matter. And that you can never have too many books.
Portraits of Women Writers, Activists and Artists in Early 20th Century