Restoring a Georgian Dublin Residence
Published on 10th November 2016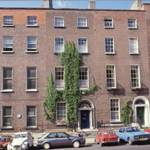 Listen to Harold Clarke's charming account of restoring the beautiful Georgian building, no. 19 North Great George's Street.  When Harold first viewed the house it was suffering from 180 years of dereliction but he recognised its beauty and bought it just three days later.
In this illustrated talk, Harold outlines the challenges he faced during his faithful restoration of the house, its long history,  and the delightful features he uncovered, most particularly its beautiful decorative plasterwork. The before and after photographs offer a fascinating insight into this most successful restoration process. I'm sure you will agree the results are splendid, from the beauty of the friezes and plasterwork in the drawing room and dining room, to the library room with its ceiling painted in the Dublin colours, the 100 stepped staircase, the entrance hall and the garden room.
Recorded at Dublin City Hall on 24 August 2016 at Dublin City Archives' 'Living in Georgian Dublin' seminar. Part of Heritage Week 2016 programme.
See Also: In his talk Harold mentions Conor Lucey's work on Michael Stapleton, which is available to borrow from our catalogue The Stapleton collection: designs for the Irish neoclassical interior (2007).
To view this, you must update your