Published on 6th June 2017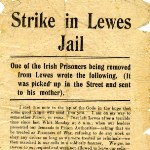 Harry Boland, a tailor, originally from Phibsborough, but living in Clontarf was 30 years of age in 1917. He had been prominent in the GAA as a member of the Dublin hurling team and county chairman and was a member of the IRB and the Irish Volunteers. During Easter Week he fought in the GPO and was sentenced to ten years in prison for his role in the Rising. Boland spent the early part of his sentence in Dartmoor alongside Eamon de Valera, Thomas Ashe and Eoin MacNeill. In the spring of 1917 the prisoners were moved to Lewes jail in Sussex. There the authorities tried to clamp down on the increasingly confident republicans who refused to do prison work or obey instructions unless they were treated as soldiers. After several confrontations on 5 June the prisoners were dispersed to other locations. Boland was among those sent to Maidstone.
While being taken from Lewes, Boland struggled violently with his escort and managed to throw a note written on toilet paper onto the street. It read 'Friend- send on this note to Mrs. Boland, 15 Marino Crescent, Dublin … and earn the prayers of her son who asks this favour of you … My dear Mother- I cast this note in the lap of the Gods in the hope that some good angel will send it to you. I am on my way to some other prison in irons. Just left Lewes after a terrible time there … our leaders presented our demand to the prison authorities asking that we be treated as prisoners of war, refusing to do any work or obey any orders so long as we were treated as criminals … we got no answer to our request, and we were not allowed from our cells, not even to Mass … We waited patiently and quietly for exactly one week; and so, on Monday night, each man broke 3 panes of glass in his window. As a result of broken windows, our leaders were removed on Tuesday midday. We then were left behind, wrecked our cells and broke all the glass which was left. The noise was terrific and we are all being sent to other prisons. We have sworn to do no work or to obey any orders whatever until the Government treat us as soldiers. We fought a clean fair fight and should be treated as honourable men, not criminals.'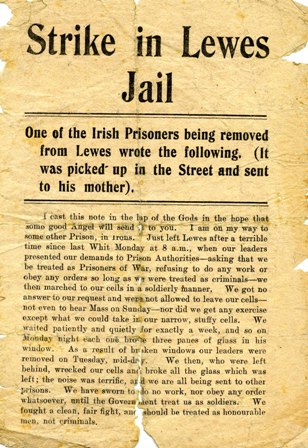 Amazingly a 'good angel' did forward the letter to Dublin. Kathleen Boland brought it to Michael Collins at the Irish National Aid office, who had it published as a leaflet. On 10 June it was read out at a protest meeting at Beresford Place. Clashes with police erupted and Inspector John Mills was fatally wounded after being struck by a hurley. He was the first policeman to be killed in Dublin since the Rising. A few days later many of the prisoners were transferred to Pentonville in London in preparation for their release. On 20-21 June Boland was among those arriving back in Dublin to euphoric welcomes.
About
This article is one in a series created by Dr Brian Hanley, Historian-in-Residence at Dublin City Library & Archive

 @DubHistorians