Published on 18th August 2023
Going to school for the first time is a big milestone in a child's life. It's an exciting, yet somewhat nervous time for the whole family.  We have put together a list of some of our favourite 'Going to School' books, which we hope will help your family navigate this new experience. All books are available to borrow or reserve from your library.  Included are books suitable for preschoolers starting play school or Montessori.
You can help prepare your child by sharing some of these books together. Reading with a parent or family member is a comforting and reassuring activity for young children.  This quiet time together is perfect for answering questions and discussing things that may be on your little one's mind.
Little Library Bags
All children starting school for the first time this September are invited to collect a free First 5 Little Library book bag and join their local library. Read more in our blog here.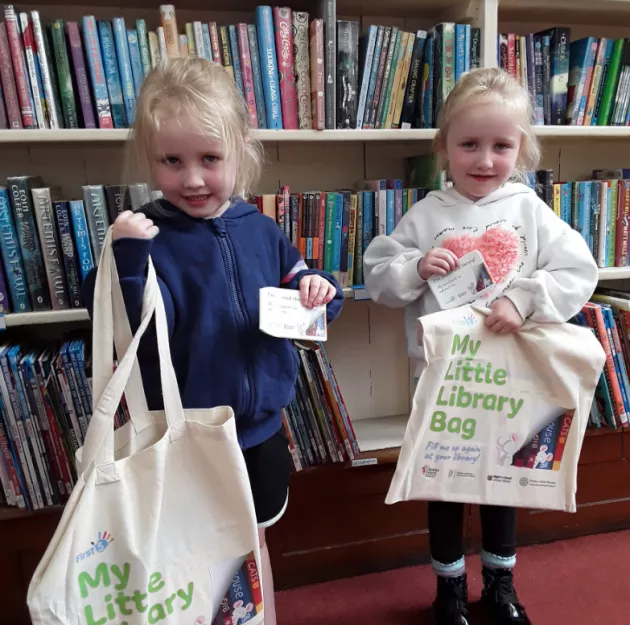 Staff Picks: Going to Primary School
Ruby's school walk by Kathryn White. Illustrated by Miriam Latimer (age 3-7)
Teacher by Amanda Askew. Illustrated by Andrew Crowson 
Spot goes to school by Eric Hill ISBN: 9780723263609
Max and Millie start School Felicity Brooks. Illustrated by Desideria Guicciardini
Bobbo goes to School by Shirley Hughes
Starting School by Janet and Allan Ahlberg
Lucy & Tom go to School by Shirley Hughes
Boris Starts School by Carrie Weston. Illustrated by Tim Warnes
Whiffy Wilson, the Wolf who wouldn't go to school by Caryl Hart. Illustrated by Leonie Lord
I am too absolutely small for School by Lauren Child
Harry and the Dinosaurs go to School by Ian Whybrow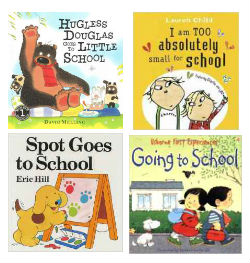 Going to Preschool
Maisy goes to Nursery by Lucy Cousins (age 3+)
Hugless Douglas goes to Little School by David Melling
School Usborne (Look and Say) (2+)
Going to School Usborne (First Experiences) (2+)