Suffrage Stalwarts: Anna and Thomas Haslam
Published on 5th April 2018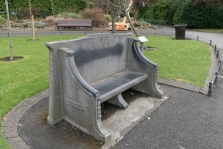 Strolling around the centre of St. Stephens Green, amongst the flowers, swans, tourists and lunchtime-time sandwich eaters, stands an unassuming seat which you might easily pass-by without noticing. Going in for a closer look, the curious onlooker will note that this bench is dedicated to one Anna and Thomas Haslam for their tireless work campaigning for equal rights for women.
The seat, made from Kilkenny Limestone, was erected in 1923, five years after women over 30 received the vote in Britain and Ireland and a year after all men and women in the Irish Free State constitution over 21 could vote.
Collection: Dublin City Gallery The Hugh Lane
The Haslams' work in the later part of the nineteenth century is a great example of the overlapping campaign for social reform that many of those involved in the suffrage movement were also a part of.
Both Anna and Thomas were Quakers (members of The Society of Friends), a Christian sect first introduced into Ireland in 1654. Their fundamental belief was in equality between men and women and they were predominantly known for their help with the poor and their support for the anti-slavery campaign, prison reform and temperance.
Ann Maria Fischer was born in April 1829 to a middle-class Quaker family in Youghal, County Cork. She was educated in Quaker boarding schools in Newtown (Waterford) and Newgate (York, England). In 1845 she returned from York to work with her parents in the soup kitchens organised by the Society of Friends Anna for the relief of the Great Famine. From her family kitchen in Youghal, Anna and her sister Deborah started up a workshop teaching young girls to knit and crotchet. Anna organised the sale of their work and the business began to flourish, ultimately employed over 100 young women in the area. After a number of successful years trading, the nuns of the Presentation Convent eventually took over and introduced lace-making which later established Youghal's renowned lace industry.
In 1853, when working at a teaching position in Ackworth School in Yorkshire, Anna met fellow teacher and Irish Quaker Thomas Haslam, who was originally from Mountmellick in County Laois. Thomas shared Anna's belief in equality for women, and after returning to Ireland they married in 1854 in Cork. The Haslam's left teaching and moved to Dublin when Thomas obtained a position as an accountant at Jameson, Pim & Co. Brewery, in Aughrim Street. They were extremely close and devoted to each other, which friends often referring to their marriage as idyllic. They moved to Rathmines in 1862, and in 1866 Thomas suffered ill health which was to afflict him the rest of his life. He was unable to work, so Anna became the breadwinner, running a small stationary business from their home at 125 Leinster Rd., Rathmines for the next forty years.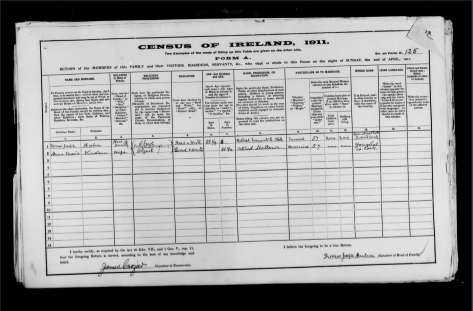 Credit: National Archives of Ireland
The first campaign the Haslams were involved in was around better education for women; Anna had been among the reformers let by Anne Jellicoe, in the founding of the Irish Society for Training and Employment of Educated Women in 1861 and in 1866 the establishment of Alexandra College for the Higher Education of Women. Alexandra College was the first college in Ireland to provide university-type education for women and then in 1873 Alexandra High School for Girls. Anna also contributed to the Intermediate Education Act of 1879, which enabled girls to sit public school examinations, and the Royal University Act of 1879, which permitted women to study for degrees in the Royal University.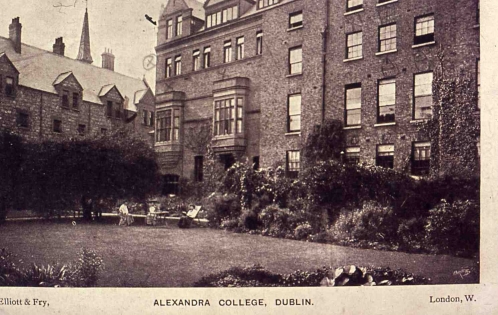 Credit: Dublin City Library and Archives
Despite his illness, Thomas continued to contribute to the campaign for women's rights. In 1874 he published The Women's Advocate, the first of three Irish suffrage pamphlets and the first to be published in Ireland supporting women's suffrage. They contained invaluable information and practical advice on the organisation of suffrage activism and as well as debating in favour of the vote for women.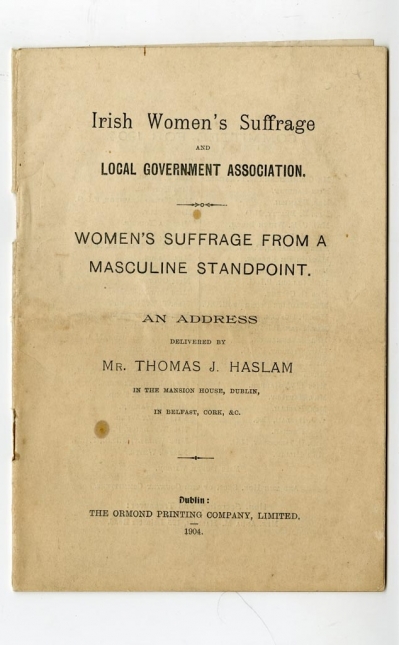 In 1876, the first Irish suffrage society was founded by Anna and Thomas, called the Dublin Women's Suffrage Association. Anna became secretary, a position she held for thirty-seven years. The DWSA sought reform for any discrimination against women, either on a legal or social level, and regularly sent petitions to the House of Commons and lobbied Irish MPs.
In 1864, 1866 and 1869 parliament passed the Contagious Diseases Acts, where women suspected of prostitution living in garrison towns in Britain and Ireland were subject to compulsory checks for venereal disease. If they were found to be infected they could be forcibly detainment in a lock hospital for up to one year. Many felt the Acts were discriminative against women and maintained a sexual double standard. Anna and Isabella Tod, a prominent feminist from Belfast, were involved in the campaign to repeal the Acts from the beginning. Anna campaigned tirelessly, speaking at public meetings in Dublin and Belfast and lobbying Irish MPs. The long campaigned ended in 1886 when the acts were at last repealed, but Anna later wrote it set the suffrage campaign back by ten years as they were all so absorbed in it.
Another success came in 1896 as the Women Poor Law Guardians Act was passed in Ireland. Poor Law Guardians were elected by magistrates and ratepayers, in Ireland women could vote but not be elected as Guardians unlike the rest of Britain. In 1897 there were thirteen women Poor Law Guardians, which increased to twenty-two the following year, opening the doors for women in local government. Anna and the DWSA continued to lobby Irish MPs and in 1898 the Local Government (Ireland) Act extended the local government vote to all women over thirty who satisfied the residential qualifications, and entitled them to be elected as local councillors. Thomas continued to work alongside Anna, publishing, Women's Suffrage from a Masculine Standpoint, in 1904.
The DWSA grew and extended beyond Dublin, becoming the Irishwomen's Suffrage and Local Government Association (IWSLGA) in 1901. The turn of the twentieth century saw a more militant approach of which Anna disapproved. In 1908 two members of the IWSLGA, Margaret Cousins and Hanna Sheehy-Skeffington, frustrated by the limitations of the group established the Irish Women's Franchise League (IWFL), an organisation prepared to break the law if necessary.
The exclusion of women's suffrage from the Home Rule Bill of 1912 brought further feelings of frustration and betrayal for many in the women's movement. Some resorted to more drastic militant action by damaging government buildings such as the GPO and Dublin Castle. Those found guilty were given a prison sentence and some began hunger strike campaigns in prison. Anna disapproved of such methods in an open letter the Irish Citizen, (founded in 1912 by the Sheehy-Skeffingtons).
The outbreak of the First World War brought a lapse in the activism of many in the suffrage movement, as many groups concentrating on contributing to the war effort. In 1916, at the age of ninety, Thomas Haslam published his last pamphlet, Some Last Words on Women's Suffrage, he died a year later and didn't live to see the Representation of the People Act brought into legislation in February 1918. This act finally gave women over the age of thirty, who met a property qualification, the right to vote in general elections.
At the age of ninety, Anna voted at the Irish general election in December 1918. Despite their political differences, women from all organisations cheered her on the way to the polling booth, and presented her with a bouquet of flowers in suffrage colours.
Anna died in 1922, just after the Irish Free State granted full suffrage to all adults over twenty-one. Her work, along with that of her husband's, to campaigns for social reform and equality for women spanned decades of change in Irish and global society and she whose legacy is carried on my the successor of the IWSLGA, the National Women's Council of Ireland.
Maeve Casserly,
Historian-in-Residence,
Dublin City Council
Additional Photo Credit:
Bench: Flickr Commons William Murphy
Further Reading (available from your local library!)
Smashing Times, Rosemary Cullen Owen
Irish Women and the Vote: Becoming Citizens, Louise Ryan and Margaret Ward (eds.)
Rise up, Women! Diane Atkinson