Three stories from The Long Gaze Back
Published on 27th May 2020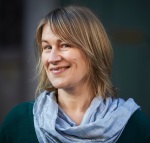 In this episode of the DCLA podcast, Michelle Read reads the first three stories featured in The Long Gaze Back. Michelle Read, is an actor and voice artist and an advocate of reading aloud for adults. She reads 'The Purple Jar' by Maria Edgeworth; 'Frank's Resolve' by Charlotte Riddell; 'Poisson d'Avril' by Somerville and Ross.
Recorded at the LexIcon on 12 April 2018, with thanks to Marian Keyes Dún-Laoghaire Rathdown Libraries for making the audio available to us.
Maria Edgeworth (1768 – 1849) was a writer of adult and children's literature. She was the most popular author writing in the early 19th Century, and her writing was also critically acclaimed by the critics of the day. Her most famous novel is Castle Rackrent, and Edgeworth is still the subject of study on academic curricula.
Charlotte Riddell (1832-1906) was a prolific writer of novels and short stories, publishing 56 books in a writing career that spanned 44 years. To hear more about Charlotte Riddell, listen back to Recovered Voices, where Lisa Coen, Louise Kennedy and Kathleen McMahon and Sinead Gleeson discuss the forgotten writings of Charlotte Riddell, Norah Hoult and Mary Lavin.
Somerville and Ross were cousins and writing partners Edith Somerville and Violet Florence Martin. Their most famous works are those featuring the Irish RM, but their novel The Real Charlotte is considered their finest piece of writing. To hear more about the interesting Somerville and Ross, listen back to a talk by Martina Devlin.
You can subscribe to the Dublin City Libraries and Archives podcast on Soundcloud, iTunes, Stitcher, Spotify or wherever you get your podcasts. This season is based on recordings from the 2018 Dublin: One City, One Book events. Dublin: One City, One Book is an award-winning Dublin City Council initiative, led by Dublin City Libraries and Dublin UNESCO City of Literature, that encourages everyone to read a particular book during the month of April every year. 2018's choice was 'The Long Gaze Back' which you can read on Borrowbox and of course you can order it from your favourite bookshop.
The Dublin: One City, One Book for 2020 is Tatty by Christine Dwyer Hickey, available electronically on our BorrowBox app and from your favourite bookseller.
Finally if you're interested in podcasts why not check out the Dublin Festival of History podcast which features recordings from the free annual event and the new City of Books podcast with Martina Devlin, the podcast for people who believe stories matter. And that you can never have too many books.