Tips to encourage good reading habits in your child
Published on 17th November 2022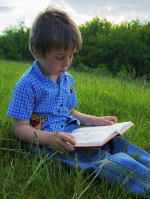 Children who are encouraged to read, are most likely to enjoy reading later in life, but also develop several skills that will help them improve their personality and build a healthier brain. The key to encouraging reading habits in kids is reading with them at home from a young age.By reading together often, your child will learn first hand the joys reading can bring, helping him or her develop a motivation to read. There are several ways to inculcate reading habits, which includes going to a local library. The library plays an important role in the community and offers equal access to information and education.
Make reading a daily habit.
Read in front of your child.
Create a reading space.
Let your child pick what to read.
Find reading moments in everyday life.
Re-read favorite books.
Learn more about how kids read.
Making reading fun
Teach your child that reading is more than just for books. Practice reading menus, movie names, road signs, game instructions, and more—show your child reading is everywhere. Make connections between reading and real life. Act as a role model and read in front of your child. Watching you reading magazines, newspapers, and books shows your child that reading is important. Encourage your child to join you with his or her own book while you are reading.
Keep reading materials in the house.  Make an area for your child to read in with his or her help. Grab a bean bag chair, fun accessories, a variety of books, and your child will have his or her own cozy reading corner.
Join your local library. Making reading fun can be easy with a library card. Take advantage of the selection at your local public library by letting your child pick out a book that catches his or her attention. Talk about what your child is reading. Give your child easy access to books and other reading materials at home. This helps him or her understand that reading doesn't only happen at school—it can happen anywhere.
After your child has finished a book, talk about what happened and ask what his or her favourite part was. This will enhance your child's comprehension skills, and make reading a family activity. Find a book that interests your child. Explore different genres like mystery, science-fiction, comic books, and more. The more interested your child is in a subject, the more he or she will be excited to read!
Make reading part of your child's night-time routine. This habit helps your child learn to associate reading with relaxation. Read each night.