Published on 18th May 2020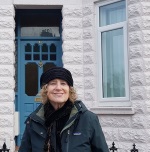 In this episode of the DCLA podcast, author Kathleen Hill gives an introduction to the life and work of Maeve Brennan, and how Ranelagh and New York helped inform the themes of exile and loss that run throughout her writing. Maeve Brennan was born in Dublin in 1917. Although she grew up in Ranelagh, her family left Ireland to live in Washington D.C. when Maeve was 17.  
Kathleen reads from Brennan's novella The Visitor, and short stories 'Stories of Africa' and 'The Poor Men and Women' both published in Springs of Affection.
Introduction by jazz singer, composer and lyricist Emilie Conway who wrote "You Won't Forget Me" - A Celebration of Maeve Brennan in Words & Music.
Kathleen Hill contributed an essay about Maeve Brennan to the anthology Nine Irish Lives (Algonquin Press), about nine Irish men and women who left Ireland to live in the United States. She has published two novels, Still Waters in Niger, named a notable book at the New York Times, and Who Occupies This House, an editors' choice at the New York Times.  Her memoir She Read to Us in the Late Afternoons was published in 2017. She teaches in the MFA program at Sarah Lawrence College near New York City. 
Recorded at Ranelagh Arts Centre on 15 April 2018.
You can subscribe to the Dublin City Libraries and Archives podcast on Soundcloud, iTunes, Stitcher, Spotify or wherever you get your podcasts. This season is based on recordings from the 2018 Dublin: One City, One Book events. Dublin: One City, One Book is an award-winning Dublin City Council initiative, led by Dublin City Libraries and Dublin UNESCO City of Literature, that encourages everyone to read a particular book during the month of April every year. 2018's choice was 'The Long Gaze Back' which you can read on Borrowbox and of course you can order it from your favourite bookshop.
The Dublin: One City, One Book for 2020 is Tatty by Christine Dwyer Hickey, available electronically on our BorrowBox app and from your favourite bookseller.
Finally if you're interested in podcasts why not check out the Dublin Festival of History podcast which features recordings from the free annual event and the new City of Books podcast with Martina Devlin, the podcast for people who believe stories matter. And that you can never have too many books.