Wide Street Commission Map Collection
Published on 18th August 2011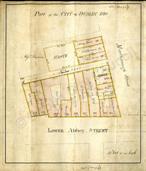 The Commissioners for making Wide and Convenient Ways, Streets and Passages in the City of Dublin was established by an Act of Parliament in 1757. The Commission had extensive powers with the authority to acquire property by compulsory purchase, demolish it, lay down new streets and set lots along the new streets to builders for development. The Commission created Parliament Street, Westmoreland Street and D'Olier Street, widened Dame Street, built Carlisle Bridge (now O'Connell bridge), and extended lower Sackville Street (O'Connell) down to the river Liffey. The Commission was abolished under the Dublin Improvement Act of 1849 with the final completion of its work in 1851. The Wide Street Commission Collection includes minute books, architectural drawings, jury books, and over 800 manuscript maps.
The archives of the Wide Street Commission are held by Dublin City Library and Archive.
Search and browse the Archive of the Wide Street Commission Maps online.
This collection consists of Maps from the Wide Street Commission Collection which were conserved with part funding from the Heritage Council under the Heritage Management Grant Scheme and photographed by Alastair Smeaton, Dublin City Libraries.  These maps date from 1755-1851 and include drawings of Westmoreland Street, Temple Bar and areas around the Four Courts and Trinity College.
Watch a video describing the conservation process:
To view this, you must update your

For further information contact:
Dublin City Archives
138-144 Pearse Street
Dublin 2
01 222 4999
[email protected]
Conservation Notice
In order to reduce handling damage and to ensure the long term preservation of these fragile maps, all researchers are requested to view the digitised images in the first instance. High-Res versions can be provided on request. Viewing of original maps is strictly by appointment only: please apply to [email protected]. 
Please note: A minimum of 3 days notice is required to process your request and a maximum of 10 maps may be ordered per visit.
Copyright Statement
All content (text, image, sound and film) in the Wide Street Commission Map Collection is copyright of © Dublin City Council. All rights are reserved unless where otherwise stipulated.
Individual Use
The content of the Wide Street Commission Map Collection may be printed and downloaded on a temporary, non-commercial basis for personal use. Copyright must be acknowledged and content may not be altered.
Commercial Reproduction
Those wishing to use content from the Wide Street Commission Map Collection for commercial purposes should contact [email protected]
Permission to reproduce images should be sought in writing from the City Archivist, Dublin City Library and Archive, 138-144 Pearse Street, Dublin 2. For commercial reproductions, a fee will be applicable.
When applying please state which photographs are being used and give the precise details of the type of reproduction involved – exhibition, book, magazine, newspaper, or other.
All reproduced images must carry the acknowledgement: 'Courtesy of Dublin City Library and Archive'.