William Butler Yeats (1865-1939)
Published on 8th June 2015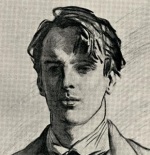 William Butler Yeats, known to friends and family as Willie, was born in Sandymount Avenue, Dublin, on 13 June 1865. He was the eldest son of John Butler Yeats, portrait painter, and his wife Susan Pollexfen, whose family came from County Sligo. The family moved to London when Willie was a baby and remained there until 1880, but he spent his summers with his mother's family in Sligo. When the family returned to Dublin he attended the High School in Harcourt Street. He originally studied art at the Metropolitan School of Art and the Royal Hibernian Academy School, but later decided to devote himself to literature, especially poetry and drama.
Left below: William Butler Yeats (click all images to enlarge)
The Yeats family moved back to London in 1887, but by this time Willie had already decided that his writing should celebrate Ireland's heroic past. In 1891 he founded the Irish Literary Society of London, and the following year in Dublin he was one of the founders of the National Literary Society. The Society's aim was to encourage the study and appreciation of Ireland's literature, folklore and legends. In 1899 he founded the Irish Literary Theatre, with Lady Augusta Gregory and Edward Martyn, this evolved into the Abbey Theatre in 1904.
His first publication, Mosada: a dramatic poem, published in 1886, is held in the Colin Smythe Yeats Collection at Dublin City Library & Archive. This does not have an Irish theme, but a series of poems and plays over the next few years demonstrate his interest in the celebration of Ireland's past. In 1889 he published The wanderings of Oisin, a long poem based on Irish mythology, in 1892 the poetic play The Countess Cathleen, and in 1893 his first volume of folk stories, The Celtic twilight. The range of his writings is wide, from poetry and plays to folk tales, prose works and three volumes of autobiography, but it is as a poet that his name is chiefly associated.
Yeats was considered the greatest poet of his day and his worldwide reputation has endured. He was awarded honorary degrees from Trinity College Dublin and Queen's University Belfast in 1922, and he was appointed a senator in the new Irish Free State senate from 1922 to 1928. In 1923 he won the Nobel Prize for literature.
 Read and enjoy his work at Dublin City Library & Archive.