Women Authors of the Gallery
Published on 6th May 2020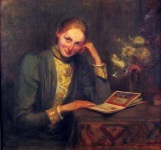 In this episode of the DCLA podcast, art historian Jessica Fahy discusses portraits of Irish women writers in collections of the Hugh Lane Gallery. Jessica focuses on writers and painters who were active from the end of the 19th century to the start of the Second World War including Lady Gregory, Jane Barlow, Dora Sigerson Shorter, Katharine Tynan and Alice Stopford Green.  
Although prolific and popular during their careers, most are out of print and neglected by 21st Century readers. Jessica also shines a long overdue spotlight on Sarah Purser, a successful portrait painter who was instrumental in setting up Dublin City Gallery, The Hugh Lane. 
List of portraits from the collection of The Hugh Lane mentioned in this talk:
Maud Gonne by Sarah Purser (1890)
Maud Gonne by Sarah Purser (1898)
Lady Gregory by Antonio Mancini
Lady Gregory bronze by Jacob Epstein
Miss Jane Barlow, D.Litt., (1894) by Sarah Purser
Katharine Tynan by Jack B Yeats (1887)
Dora Sigerson Shorter by John Lavery (1918)
Alice Stopford Green by William Rothenstein
Mrs Victor Rickard by Matthew Webb
Portrait of pilot, Lady Mary Heath by Sir John Lavery (1928)
Jessica Fahy is a freelance art historian based in Dublin, Ireland. Jessica has been teaching and researching various areas of European art for over 10 years and is passionate about sharing her love for the subject in an engaging and interactive way.
She teaches at UCD Adult education and the National Gallery of Ireland.
More about the Hugh Lane
The The Hugh Lane's popular Coffee Conversations have moved online. During these discussions participants are invited to join Gallery curators and guest speakers in an exploration of the Gallery's permanent collection, exhibitions and conservation projects. Their recent Coffee Conversation talk with Sarah Edmondson discusses Lady Gregory by Jacob Epstein in the collection of the Hugh Lane Gallery. The talk was recorded at home in the spirit of social distancing. We hope you enjoy and keep an eye on the Hugh Lane Gallery's YouTube channel for more #MuseumfromHome talks.
Subscribe
You can subscribe to the Dublin City Libraries and Archives podcast on Soundcloud, iTunes, Stitcher, Spotify or wherever you get your podcasts. This season is based on recordings from the 2018 Dublin: One City, One Book events. Dublin: One City, One Book is an award-winning Dublin City Council initiative, led by Dublin City Libraries and Dublin UNESCO City of Literature, that encourages everyone to read a particular book during the month of April every year. 2018's choice was 'The Long Gaze Back' which you can read on Borrowbox and of course you can order it from your favourite bookshop.
The Dublin: One City, One Book for 2020 is Tatty by Christine Dwyer Hickey, available electronically on our BorrowBox app and from your favourite bookseller.
Finally if you're interested in podcasts why not check out the Dublin Festival of History podcast which features recordings from the free annual event and the new City of Books podcast with Martina Devlin, the podcast for people who believe stories matter. And that you can never have too many books.
The Long Gaze Back: Portraits of Irish Women Writers