In case of an emergency call 999 or 112.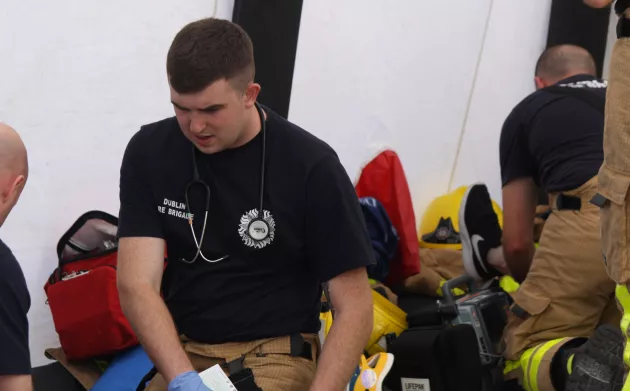 When should you call 999 or 112?
Always call 999/112 if someone is seriously ill or injured, and their life is at risk.
If it is not a life-threatening emergency and you, or the person you are with, does not need immediate medical attention, consider the options below before you dial 999:
Look after yourself or the patient at home. If you cannot stay at home, see if family or friends are able to help
Talk to your local pharmacist
Visit or call your GP
Make your own way to your hospital accident & emergency department
We receive a large number of calls for patients who do not require an emergency response from an ambulance on blue lights and sirens but who could be treated more appropriately using a different pathway of care. Choose the best treatment for your needs. It allows us to help the people who need us the most.
What happens when you dial 999 or 112?
When ambulance calls are received in our control centre they are answered immediately. Our call taker will ask the caller for their telephone number, incident location and what the issue is with the patient. In order to double check this information, the staff member repeats all these details back to the caller. Our call takers and dispatchers use software to put the call into one of three categories above based on its urgency and ensure an appropriate response is sent. Each call is given a response appropriate to its categorisation.
Emergency 999 or 112 calls to the Dublin Fire Brigade, rescue and ambulance service are prioritised into three categories to ensure life-threatening cases receive the quickest response:
Immediately life threatening – if someone is seriously ill or injured and their life is at risk. Examples of medical emergencies include (but are not limited to): if some chest pain, difficulty in breathing, unconsciousness, severe loss of blood, severe burns or scalds, choking, fitting or concussion, drowning or severe allergic reactions
Serious, but not life threatening illnesses or injuries
All other calls – for conditions that are not life threatening
Call takers in our control centre use an Advanced Medical Priority Dispatch System (AMPDS), which uses information gathered from the caller, to prioritise the call and to make sure right ambulance resource is sent to the scene.
The call takers can also provide medical advice to the caller, while the ambulance or fire tenders are en route, which ensures that there is no time lost in providing medical care.
What information do I need when I call 999 or 112?
When you call the emergency services an operator will ask you which service you need. If it's a medical emergency, ask for the ambulance service and you will be put through to one of our call-takers. If is a fire emergency, ask for fire and you will be transferred to an appropriate call-taker. You may be asked what area you are call from.
You will need to have the following information available when you call us:
The location where you are
The phone number you are calling from
Exactly what has happened
As soon as we know where you are we will start arranging help for you.
Fire
Questions you may be asked:
Is there anyone in the building (persons reported/injured)
Attached to other properties
Exact location
Local landmarks to help identify the location
Medical information
You may also be asked to give some extra information, including:
The patient's age, gender and any medical history
Whether the patient is awake/conscious, breathing and if there is any serious bleeding or chest pain
Details of the injury and how it happened
Answering these questions will not delay us, but it will help us give you important first aid advice while our staff are on their way.
What can I do before help arrives?
Before help arrives, our call takers and dispatchers will talk you through steps you can take, such as:
If you are in the street, stay with the patient until help arrives
Call us back if the patient's condition changes
Call us again if your location changes
If you are calling from home or work, ask someone to open the doors and signal where the ambulance staff are needed
Lock away any family pets
If you can, write down the patient's GP details and collect any medication that they are taking
Tell us if the patient has any allergies
Stay calm—our staff are there to help
Who will arrive?
Fire crews in Dublin will respond to all domestic fires were persons are reported, with three fire tenders, a senior officer and an ambulance
Larger fires will have a pre-determined response depending on information supplied or specific response because of a known risk
Smaller fire may only have a one fire truck response
Who will treat you?
We have a range of multi skilled staff who will rescue, treat and transport our patients including:
Advanced paramedics
Paramedics
All our fire crews are paramedics
DFB operates a fire based EMS system, a fire tender my be the first response to arrive. All Dublin firefighters are trained and registered paramedics