Computers and the Internet
You can access free broadband, WiFi and desktop applications in Dublin City Libraries. Contact your local library to find out more about using our computers and Internet service.
Access to computers is determined by availability and opening hours. For more information see our Computer/Internet Booking Procedures below. Use of the Internet in Dublin City Libraries is governed by an Acceptable Usage Policy.
Note: The 'PC Reservation' self-booking system is in use in our branch libraries.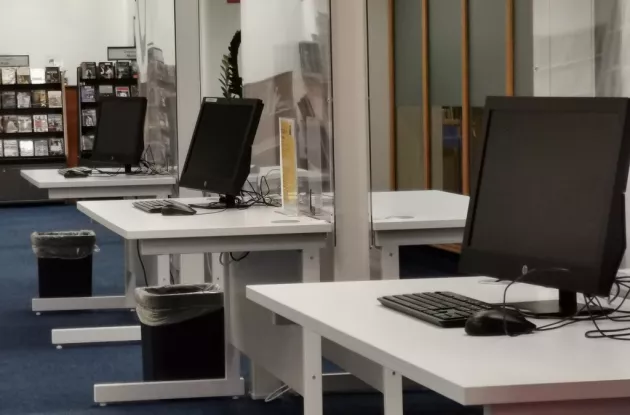 Laptops and tablets may be borrowed in the following libraries and are for use in the library only.
26 July 2023: As the result of a technical issue, laptops are not currently available for loan in Dublin City Library branches.  We apologise for the inconvenience and are working to resolve the issue as quickly as possible. 
Ballyfermot
Cabra
Central Library
Coolock
Raheny
Rathmines
Terms and Conditions apply, see below.
Computer/Internet Booking Procedures
By using our Computer and Internet facilities you're deemed to have agreed to our Acceptable Usage Policy. Failure to comply with Library policies and procedures may result in the loss of computer and Internet access privileges.
Using the PC Reservation system, borrowers can book to a maximum of 55 minutes per day.
When taking up a computer session you will be asked to show your library card (or input your card number and PIN).
It is best to reserve a session in advance.
Only one session may be booked in advance.
Each session will last for a maximum of 55 minutes. Shorter periods or additional time may be accommodated and is dependent on local facilities and availability.
The allocation of any additional time may require a patron to move to a different PC.
Failure to take up a reservation within five minutes of the start time may result in another user being offered the session.
Waiting lists may be drawn up for each session with priority being given to users who have not already had a session, or who are not booked for a session later that day.
A time-out warning system will alert users to time remaining and will terminate sessions when the allotted time has elapsed. All user and session files, including cookies, browsing history and files created, are automatically removed upon termination of a session.
Library laptops and other portable computer devices are not to be removed from the library.
Laptops / tablets are not to be left unattended as you are responsible for any loss or damage to a device issued to you.
Where an 'Express' PC is available, the maximum allowed time is 20 minutes. Express PCs cannot be booked.
Black and white printing is available at 20c per sheet, colour printing at 60c per sheet. For more information see Print, Scan, Copy.
Please also refer to our Terms & Conditions under Membership Regulations. Borrowers are required to bring their library card with them when visiting the library. If you do not have the card with you, you will be asked to show photographic ID before you can borrow an item or use the computers.
eduroam
Further education students and researchers can also avail of the eduroam WiFi service in five branch libraries to securely access their home institution, courtesy of Dublin City Libraries being an approved service provider.
Internet and computer access for people under 15
You are welcome to use the Internet provided that:
a parent or guardian gives permission in writing by signing a 'Permission Form' in the presence of a member of the library staff
a parent or guardian is with you at the time, or you are supervised by a teacher (or other responsible adult) over the age of 18
The following library has dedicated computer facilities for teens
Internet and computer access for people under 12
You are welcome to use the Internet on library computers provided that
a parent or guardian is with you at the time, or you are supervised by a teacher (or other responsible adult) over the age of 18.
The following libraries have computer facilities specifically designed for those under the age of 12
Internet access is restricted to selected websites and approved by library staff.