101 things you thought you knew about the Titanic.
Published on 12th April 2012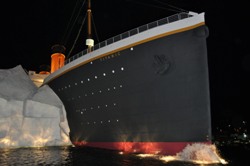 The book "101 things you thought you knew about the Titanic.... but didn't" is a fascinating study of some of the myths and half-truths that have arisen since that fateful morning of April 15th 1912. (Growing up in Cobh, I reckon I've heard 99 of them!) Author Tim Matlin dispels many of these popular legends using primary sources such as the US Inquiry and the British Inquiry, both of 1912. He also shows that many of these stories are indeed true. The myths are neatly separated into categories such as: The Ship, Omens, Passengers, Collision, S.O.S etc.
Below are a few examples to whet your appetite:
Titanic was genuinely believed to be unsinkable. This is true as she was designed to stay afloat with any of her two watertight compartments flooded. The glancing blow Titanic received from the iceberg was not foreseen, as it had never happened before according to maritime records.
Titanic was filled to capacity on her maiden voyage. False; she was about half full carrying 1,308 passengers out of a total capacity of 2,603.
If Titanic had struck the iceberg head-on, she would not have sunk. This is true according to evidence given by Edward Wilding, one of Titanic's designers. He cited the case of the Arizona, which 34 years previously hit an iceberg head-on and survived. Titanic's bows would have been crushed in for 80 or 100 feet but she would have remained afloat according to Wilding.
 Titanic broke in half as she sank. Yes. This was not discovered until 1985 when her wreck was found on the seabed. Her bow section lay 650 metres North of her stern section.
More women were saved from the Titanic than men. False. 338 men were saved and 316 women. This is because only about 25% of the people (passengers and crew) were women.
You can find more books on the Titanic in our catalogue.