Adam is A1: Adam Findlater, 1855-1911
Published on 21st October 2021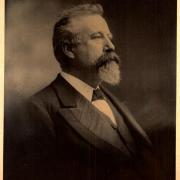 This gallery consists of images associated with the family merchant business Alex. Findlater and Company. The gallery highlights the life of Adam Findlater, 1855-1911, as he was not only the managing director of the business but he was also an extraordinary citizen of Dublin. Originally from Scotland, Alexander Findlater came to Dublin in 1823 to begin trading in Whiskey. From the beginning of his merchant days, he was to only involve close friends and family. Subsequently, the company built a solid foundation of trust and reliability within the community and expanded its trade to a wide variety of goods. Through the generations the Findlaters contributed to politics, the military, charity, and the well-being of the city of Dublin. While one no longer sees the impressive Findlater locations of days gone by, Findlater's remains a highly successful wine distributor.
Adam was born in 1855 to Mary and John Findlater. He was in the third generation of Findlater men to run the family business. Besides the family business Adam also acted as chairman for the Star Theatre in Dublin, the Empire Theatre of Varieties in Belfast, Banagher Distillery, and the Commercial Travellers' Benevolent Institute where he raised money for the less fortunate. He owned shares in the St Lawrence hotel in Howth, and the Royal Hotel in Bray and Howth. Interestingly, he was probably most known for his involvement with politics as a vocal proponent of the views of liberal Southern unionists in Dublin. After his death, a friend of Adam stated, "It was the combination of exceptional qualities of head and heart in one commanding personality that rendered him a notable figure in the Irish capital."
This gallery has been created, compiled, and completed by Emily Cunningham, Undergraduate at Boston University, Boston, MA, USA, Class of 2014; studying American Studies and Archaeology.
Cited Resources:
'Findlaters - the Story of a Dublin Merchant Family 1774-2001' by Alex Findlater, published by A & A Farmar in 2001 in Dublin.
Further Resources
Dublin City Libraries has a wide range of sources on the social, political, and cultural history of Dublin, some of which are available online and some through the Dublin City Libraries network.
The Reading Room, Dublin City Library and Archive, Pearse Street holds a wealth of material on the history of Dublin, including books, pamphlets, journals, street directories, and almanacs.
The following online resources can be accessed free of charge at your local library. Ask library staff for information and assistance.
For further reading, consult the Library Catalogue.
View Copyright Statement.