All-Ireland Days: The Pursuit of Liam and Sam (1953-1984)
Published on 29th May 2017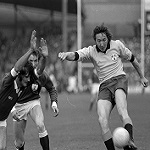 Summer comes around, the ground hardens, and the thoughts of many people turn to the playing fields of Clones, Thurles, Castlebar, and other venues throughout the land. All dream of a visit to Croke Park in September. These photos from the Fáilte Ireland Tourism Photographic Collection celebrate the lucky few who played in All-Ireland Finals in the second half of the twentieth century.
View All-Ireland Days Image Gallery.
The photographs depict an Ireland that is at once familiar yet distant. Hurlers wearing flat caps instead of helmets. Footballers in pre-match parades wearing jerseys that have seen better days. Bishops throwing in footballs and sliothars. Stands that are bursting with supporters. The photos include giants of both codes including Christy Ring, Mick O'Connell, Jimmy Doyle, Kevin Heffernan, Jimmy Barry Murphy, Eddie Keher and countless others. This gallery captures the hope and expectation, the fury of the contest, and the fact that for most of these men, their lives would often, fairly or unfairly, be defined by their actions on Croke Park's sod on a Sunday afternoon.  It salutes the senior and minor players, the young and old supporters, the winners and the losers. The contest is all.