Anniversary of the 1913 Lockout
Published on 29th August 2013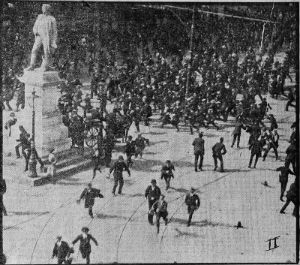 Monday, 26th August, marked the 100th anniversary of the beginning of the strike in Dublin of 700 tramway-men belonging to James Larkin's Irish Transport and  General Workers' Union (IT&GWU), a strike that developed into a general lockout of union members. On 30th August 1913 there were riots in Ringsend, Beresford Place and Eden Quay, during which the police baton-charged the crowds. One hundred years ago next Saturday (31st August) James Larkin, wearing a beard as a disguise, spoke to striking tramway workers from the balcony of the Imperial Hotel, O'Connell Street (now Clery's Department Store). A riot followed Larkin's arrest at the event, and over 600 people were treated in hospital for injuries. That day became known as "Bloody Sunday".
Left: Image from A Capital in Conflict, Dublin City and the 1913 Lockout. Copyright: Dublin City Library & Archive

The Lockout continued into January 1914 when the IT&GWU finally called off the strike and advised its members to return to work. In the intervening period, with over 20,000 workers either on strike or locked out, families enduring widespread hardship, poverty and hunger. 
Right: William Martin Murphy, the owner of the Dublin Tramway Company who locked out members of the IT&GWU who refused to sign a pledge and leave the union. Picture is from "The Lady of the House 1910".
Events
Dublin City Libraries and Archive organised a number of events to mark the centenary of the 1913 lockout, including the following: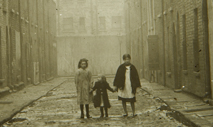 Digging the Monto: tenement archaeology and the 1913 Dublin Lockout (photographic exhibition).
Jacob's Biscuit Factory and the 1913 Lockout (lecture), City Hall, Tuesday 1st October.
Collapse of Church Street tenements in 1913 (lecture), Central Library, Wednesday 2nd October.
Women, children and food provision in the 1913 Lockout (lecture), Charleville Mall Library, Thursday 3rd October.
The story behind the Jim Larkin Monument on O'Connell Street (lecture), Dublin City Library and Archive (Pearse Street), Saturday 5th October.
An inspiration to all who gaze upon it: the Jim Larkin statue (lecture), Marino Library, Monday 7th October.
These talks were part of Dublin Festival of History 2013, an initiative of Dublin City Council's library and archive service.
Image Galleries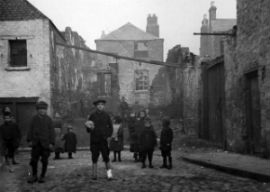 A number of our online galleries contain images of Dublin from the period around the 1913 lockout. At this time the city could indeed have been described as being in the midst of the worst of times. The lockout brought immeasurable suffering to the families of those involved, adding yet another circle of hell to the lives of those living in the slums, slums which had been justly described as "infernos of degradation." Our images galleries Derelict Dublin and Dirt and Disease give some insight into the lives of these people.
Yet there was another side to life in the city at the time. To learn more about a Dublin of contrasts, read A Tale of Two Cities and view the associated image gallery.
Further Links