Audio guides to the city's most fascinating burial grounds
Published on 21st March 2022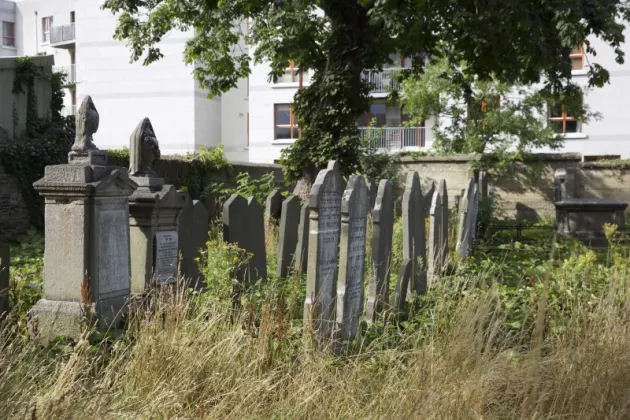 The guides feature the Huguenot Cemetery on Merrion Row, Dublin 8's Cabbage Garden, and the Jewish Cemetery in Ballybough. The series sees local experts shed light on the stories of these sites, from their origins to the present day. Please note that direct access to the Merrion Row and Ballybough sites is currently unavailable. 
Listeners can tune in to the audio guides while visiting nearby the burial grounds but can equally access them while on the go, or even from the comfort of their homes. The guides are a particularly suitable heritage resource as they allow for the quiet and respectful exploration of the burial grounds.
The guides are in keeping with the Council's policies which aim to celebrate the rich, often hidden, heritage of the city's burial places.
Access the Guides
Find out more about the heritage audio guides here. 
You can also find them on all major podcasting platforms. 
Dr. Ruth Johnson, Dublin City Archaeologist, said, "The graveyards at Ballybough, the Cabbage Garden and Merrion Row are fascinating time capsules that reflect the city's diverse past populations. Through the support of the Community Monuments Fund 2021, Dublin City Council has made accessible online information about three of the lesser-known but most intriguing historic graveyards. These audio guides will be of interest to Dubliners, tourists and those interested in genealogy and history worldwide."
Leslie Moore, Head of Parks, Biodiversity and Landscape Services, Dublin City Council, said, 'Old burial grounds in the city provide quiet spaces for contemplation and yet they are often missed in the day-to-day business of Dubliners. The audio guides will promote the local heritage and sense of place that these hidden gardens provide and, if successful, will be extended to other old burial grounds throughout the city.'
The series is supported by the Community Monuments Fund 2021, an initiative of the National Monuments Service of the Department of Housing, Local Government and Heritage. The guides were produced by Abarta Heritage on behalf of Dublin City Council.
Contributors to this podcast series include Cathy Scuffil, Dublin City Council Historian-in-Residence for the South East and South Central Areas; Dr. Marie Léoutre, Chair of the Huguenot Society, Irish Branch; Yvonne Altman O'Connor, Jewish Museum Dublin; and Rabbi Lent, Dublin Hebrew Congregation.