This book will put you to sleep
Published on 19th March 2021
It's four in the morning and I can't sleep. I reach for the book I received as a Christmas present, Why We Sleep: The New Science of Sleep and Dreams by Matthew Walker. Is someone trying to tell me something!
I open it randomly on page 181 and the heading Sleep Loss and the Immune System is followed by details of two experiments proving poor sleepers more likely to pick up common flu and cold viruses due to compromised immune systems. The second experiment shows poor sleepers as having an inferior reaction to vaccines and a lesser antibody response producing 50% less of an immune response than their rested counterparts.
Is the author saying my poor sleep could compromise my immune system and affect the efficiency of the COVID vaccine when I get it? Great, time to get up and have a cup of tea, camomile of course. I wouldn't recommend this book for bed time reading.
It's been long established that digital technology can upset natural rhythms and patterns that have developed over millennia. The cost of twenty four hour living can be high. Eating patterns, sleeping patterns, work life balance are all askew. The flexibility offered by technology has not necessarily made us happier or healthier with stress being identified as a major cause of illness in the modern world.  
This book gives tips on how to get a better sleep, explaining the effects of caffeine, alcohol, sleeping pills, temperature, and lighting as stressors on our sleep patterns. It recommends regular sleeping hours as the number one rule in good sleep hygiene. The author advocates that sleep should be a mandatory subject in physical education.
Why We Sleep is a popular science read and the author has managed to remain engaging while delivering a very serious message. He welcomes the reader to, "consume the book in whole or in part, buffet style or in order according to personal taste".
His disclaimer of taking no offence should the reader fall asleep while reading is humorous, he takes it as a compliment.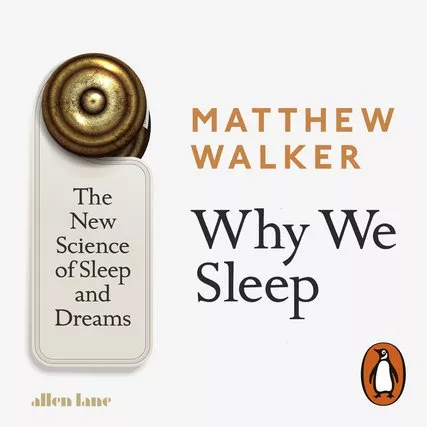 We've all met the drunk who thinks they're fine. Walker tells us that a sleep deprived person is much like a drunk in that they are totally unaware of their shortcomings. Sleep deprivation has consistently bad outcomes disrupting important physiological processes.
Sleep depravation causes accidents in and out of the workplace. Walker insists sleep deprived workers are less productive. He explains REM and NREM sleep as: "sleeping to remember and sleeping to forget", while the brain, "clears out junk and strengthens what's left". REM dreaming seems to provide a sort of elixir, an overnight therapy assisting in recovery. This has proven to be of great benefit to PTSD sufferers and mental trauma patients.
Shakespeare wrote that sleep repairs the ravelled sleeve of care and these lines are in keeping with the latest scientific sleep discoveries. Previous generations knew instinctively that to sleep on it was a good problem solver. To sleep perchance to dream is the aspiration of the sleep deprived who often crave the blessing of a good nights sleep. This book will offer sleep solutions.
An easy and informative read that explains the many positives of a good nights sleep. Sleep is our credit in the bank; a blessing demonstrated when a cranky child falls asleep and wakes up angelic.  In preparation for receiving the vaccine later this year, I have taken to using my Fitbit to track and monitor my sleep, as well as logging steps, and food intake. It's a nod to the juxtaposition of a good night's sleep and a healthy immune system, and an easy way to set goals.
Eight hours a night should do it! 
Access eBooks/eAudiobooks on your phone, tablet or reader. Once you have installed the app, search for Dublin in the 'Library' field provided and then sign in using your library membership card number and PIN.
Watch our how to video on Borrowbox. Members of other library authorities will need to log in using a different link. 
Submitted by Liz in Pearse Street library.