Changing Face of Jacob's Biscuits
Published on 21st October 2017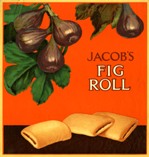 Down the years Jacob's Biscuits introduced new products on a regular basis.  Some did not survive the court of consumer taste while others, like Cream Crackers and Fig Rolls, remain proven favourites. From time to time the more popular products got a new label, updated to reflect the style of the time.
Follow the changing face of your best-loved biscuit in the Changing Face of Jacob's Biscuits Image Gallery.
If you can contribute any missing packages we'd be delighted to hear from you. Get in touch on twitter @DCLAReadingRoom or email [email protected]
The images in this Image Gallery form part of Jacob's Biscuit Factory and Dublin: An Assorted History exhibition on display at Dublin City Library and Archive, 138-144 Pearse Street until 8 November 2017.  Drawing on the vast Jacob Biscuit Factory Archive held at Dublin City Library and Archive, this major exhibition explores all aspects of the factory's twentieth century history and its impact on lives of Dubliners.