Charter of Henry II: 1171-2
Published on 15th February 2022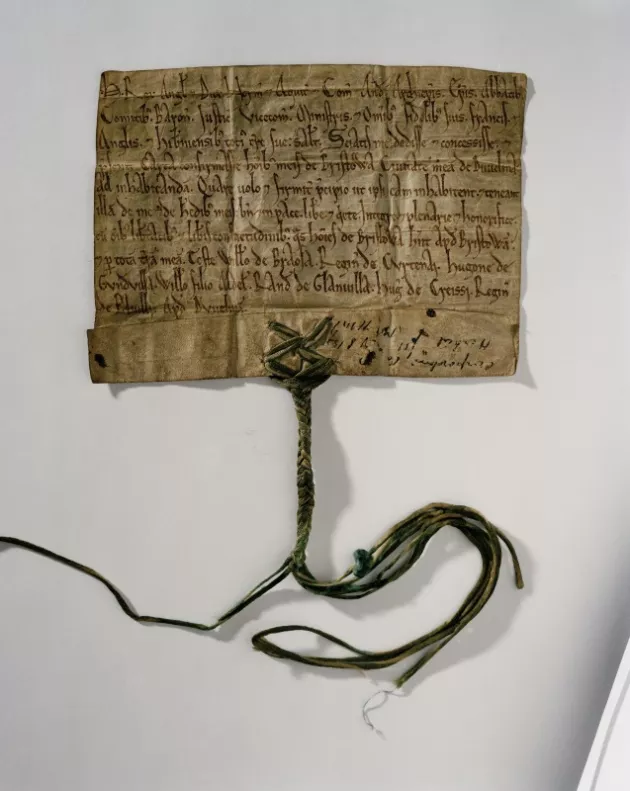 In the wake of the Norman Invasion of Ireland, Dublin was seized in 1170 by Richard de Clare, better known as Strongbow.  His overlord, King Henry II, was alarmed as it seemed likely that a separate and independent kingdom might be established in Ireland.  Accordingly he decided to visit in person to assert his authority, and his journey was financed by the merchants of Bristol.
Henry was in Dublin between November 1171 and February 1172.  He resided in a tent where he received the submission of the Irish Kings.   He also issued a charter which is the earliest document in the Dublin City Archives.  This gave to the men of Bristol the right to live in the city of Dublin 'ad inhabitanda'.   The tiny parchment measures 121 mm x 165 mm and a fragment of the seal remains in green wax.  The charter is written right through, leaving no room for additions – a measure taken to prevent fraud.
It is truly remarkable that such a small and fragile document has survived eight centuries of use.  The most likely explanation is the charter's evidential value in legal cases and the reverse is covered with annotations relating to cases where the charter was submitted to prove a point.  It now resides in a purpose-made case in the Special Strongroom at Dublin City Library & Archive.
Tales of Two Cities: Dublin and Bristol
The Friends of Medieval Dublin & Dublin City Library & Archive organised a seminar marking the 850th anniversary of Henry II's grant of Dublin to Bristol, 1171–72. Four experts explore the historic connections between Ireland and Britain and that watershed moment of 1171, examining the shared history of the two cities through conquest, trade, politics and the famous charter which granted Dublin to Bristol.
Recorded on Friday, 25 February, 2022 at  the Wood Quay Venue, Dublin City Council Civic Offices. 
To view this, you must update your

Speakers:
Professor Seán Duffy (Trinity College Dublin)
Dr Grace O'Keeffe (Trinity College Dublin)
Professor Marie Therese Flanagan (Queens University Belfast, emerita)
Professor Nicholas Vincent (University of East Anglia)