The Clontarf Town Hall Caretaker and the Rising
Published on 11th July 2016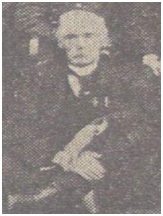 A native of Omagh, Co. Tyrone, 'Mick' McGinn was an 'old' Fenian who had been a Tyrone IRB leader since the 1870s and had spent a lot of his life in British jails.  McGinn was a close personal friend of Thomas Clarke, who was seven years his junior.  Indeed, Clarke had joined the Tyrone IRB in 1878 at the request of both leading Fenian John Daly and Michael McGinn. By the late 1890s McGinn was the Fenian Head Centre for Co. Tyrone, based at Dergmoney House in Omagh.
Image: Michael McGinn 1851-1916, from a photograph of the O'Donovan Rossa Funeral Committee 1915.
By 1897, as deputy leader of the Ulster Executive of the 1798 Centenary Committee, McGinn became very active in promoting the establishment of '98 centenary clubs across Ulster.  This activity ultimately led to McGinn's denunciation by the local Catholic clergy – who were traditionally hostile to the Fenians- which led to him losing his job as a baker, forcing him to leave his native county and small family farm.  By late 1897 he relocated to Dublin with his wife (Catherine 'Kate' McGinn, née Love) and young son, Conway, where he was assigned to the Central Executive of the 1798 Centenary Committee.
By late 1901, McGinn, through the influence of his Fenian contacts in Dublin Corporation, secured the job as Caretaker at the Clontarf Town Hall and lived with his family (by now the McGinns had three young children) on the premises.  The Town Hall had come within the Corporation's remit following boundary changes in 1901 which resulted in the absorption of the former Township of Clontarf into the city.  The Corporation's Public Libraries Committee set about converting a section of the Town Hall into a library which opened in early 1902, and part of McGinn's duties were to tend to the Reading Room. The library was managed and staffed from the nearby Charleville Mall library on the North Strand.
As a close personal friend of both Thomas Clarke (who was godfather to his second son Rommy) and Seán MacDiarmada, McGinn was very firmly aligned with key members of the IRB in the years leading up to the Rising. Thomas Clarke had returned to Dublin from the United States in 1907, setting up his tobacconist shop at 75 Parnell Street (which acted as a front for his IRB activities), and he and McGinn had renewed their close contact.
McGinn had a specific 'committee' room which he made available and so provided a haven for IRB Supreme Council meetings which were frequently held at the Clontarf Town Hall. It was here that the IRB Supreme Council famously held their last vital meeting before the Rising on 16 January 1916, at which the IRB 'being a democratic body, voted to change its decision on the Rising in 1916 from one in principle to one in fact'.
McGinn's seniority in advanced nationalism is strongly evident in his activities in the lead up to the Rising; In July 1915 he was identified as a senior member of the IRB by the Dublin Metropolitan Police. His importance is also testified to by his membership of the O'Donovan Rossa funeral Committee at this time.
Kate McGinn was also closely associated with the leaders of Easter week and was recalled as 'acting as hostess to every young fighter who came to Dublin' with the McGinn family home becoming known as a 'centre of resurgent nationalism'.
McGinn was already 65 years old by Easter Week 1916 and had fallen gravely ill with a condition that was then diagnosed as 'creeping paralysis'.  He was therefore bedridden and unable to take any part in the events of Easter week.  However, both of his sons participated; Conway saw action at various locations including the Imperial Hotel in O'Connell Street and his younger son Rommy, being only 16, played a smaller role. As recounted by Rommy's son Brian 'My father being then just 16 was involved in some skirmishes along the North Strand but most of the time he carried information to his father and cared for him with his Mother Kate.'
Despite not participating in the rebellion, Mick McGinn was nonetheless arrested from his sick bed and held for a short time after the Rising, but was later released on health grounds.  He died shortly after on 28 July 1916.
By the end of 1916, Rommy McGinn had been taken on as a permanent library assistant at Charleville Mall library.  Kate McGinn retained her employment as caretaker/housekeeper at the Clontarf Town Hall until it was sold in 1925.
About our Guest Blogger
Evelyn Conway is Librarian at Dublin City Public Libraries and Archive.
The above is based on an essay in the book 'Dublin City Council and the 1916 Rising', published by Dublin City Council, March 2016. Evelyn is one of a number of contributors of essays exploring events of the Rising and biographies of persons involved and either employed by the Council at the time, or subsequently. Read this recent blog post for more.
Part of a series looking at Dublin City Public Libraries staff and the 1916 Rising. See also: