The closest thing to a classical Netflix?
Published on 26th May 2021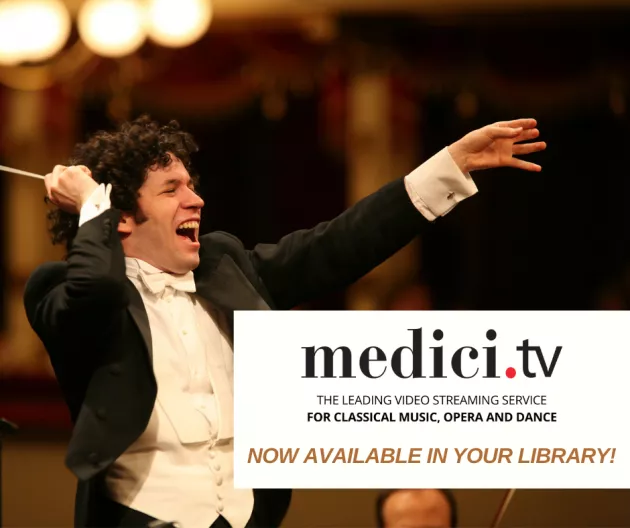 Just as I could never  imagine it was possible to 'finish' Netflix I also never thought it would be possible to get bored with our range of online music resources. I have a confession, however, I did.
A controversial statement from a Librarian, and my sincere apologies to the wonderful Freegal, Naxos Music Library, and Artist Works who have provided me with so much joy, but the long months of lockdown resulted in overstimulated cultural nerve endings and a feeling of fatigue brought on by over exposure to too many great songs, concerts and videos.
Can you get too much of a good thing? In my case the answer sadly, was yes. 
Hang on, good news is on the horizon! Libraries are open again and I can re-join the world of books and physical matter. No longer do I need to depend on my laptop or smartphone to keep me entertained through the long uneventful days. Maybe I will finally finish that garden patio project, sit outside sipping rosé and throw off the shackles of seemingly limitless musical resources, free to access anywhere with your library card.
But wait what's this? Dublin City Libraries have just added something new to their collection of online resources, and it has been described by the New York Times as, "the closest thing to a classical Netflix"? Hello Medici TV 
Goodbye long outdoor summer evenings. 
Featuring the performances of leading classical musicians, orchestras, ensembles and opera companies, with over 150 live performances a year and with more than 1,800 videos on demand Medici TV is the siren call to lure me away from my idyllic Provençal lifestyle and back into the clutches of unlimited great music. 
Curse you Dublin City Libraries, maybe this time next year I will emerge mole-like, blinking at the sun having 'finished' Medici TV, but with the vast array of musical delights on offer the latter seems unlikely.
Alternatively I could finish that garden project after all and sit outside watching Puccini's Turandot and imagine myself at the Arena di Verona. As Michael Corleone would have said; "Just when I think I'm out. They pull me back in".
Submitted by David in the Music Library.