Come to Libraries, Come to Life
Published on 14th September 2016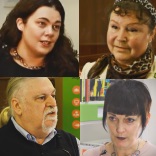 'Come to Libraries, Come to Life' is a series of video interviews with users of library services in Dublin City Libraries, in partnership with Ballyfermot College of Further Education. The goal of the project is to show the diversity of the kinds of people that use libraries, and to demonstrate what the services mean to them. Eva in Pembroke library is a regular visitor, and has come with her family for many years, enjoying the wide variety of events that the library has held; she is also a regular attendee at the Pembroke book club. In Cabra Library, Teresa is a regular visitor with her three children; their voracious appetites for reading are more than satisfied by the varied and extensive book selection. Pat in the Business Library uses the many databases and newspaper archives that are available, and believes that the services public libraries provide are vital in providing free education for anyone who wants to access it. Lastly Tatiana has been coming to the Open Learning Centre for a number of years, having arrived in Ireland with very little English – you can see in her interview that her hard work in the learning centre has paid off as she expresses herself very well and shares her experience of how the libraries have influenced her life.
View the four videos below (scroll through the playlist):
The crux of the project was to showcase library services to a wide audience, to create accessible and emotive content that could be distributed online to show people what difference library services could make in people's lives. We wanted to capture people's experiences, so the viewers could relive those experiences and be in turn inspired to emulate them. These goals were devised in the early stages of the project in partnership with library management, in particular with Anne-Marie Kelly, divisional librarian in charge of development and marketing.
Once this was established, we worked with a number of branch librarians in order to source participants. As producer/director of the project, I facilitated and organized the filming of the interviews, utilizing the project management tools that we were being taught to us in Ballyfermot on the BA(Hons) degree in Media Production Management. I also drew on the knowledge gained from my previous course in film production. I carried out the interviews, with a number of class colleagues doing the camera work - thanks here to Conor Atkinson and David Buckley for their hard work and help. The editing and post production process sought to capture the essence of the interviewees stories which in my view was very effective in the final result! I'd like to acknowledge Conor Atkinson and John Redmond for their parts in the post production. Without this team of people, and many others who gave advice and assistance, this project would not have been possible.
This project has refreshed my perspective on the value of public library services. Meeting library users that have had a variety of different experiences allows a macro view of what individuals can gain from an essential and free service. Public libraries aim to have barrier free access to knowledge, facilities and services that allow people to educate themselves, and also to have enjoyable experiences. Libraries create communities, and provide spaces for individuals and groups to explore and grow as people. This project also allowed me to grow as an individual, in that I gained and honed valuable skills in managing a team of people, collaborating with the management team in libraries and coordinating and organising many aspects of the project. It was an enriching and worthwhile experience that has taught me about myself, and the fundamental value of free, accessible public services.
Allayne Cassidy